If you've been following my blog regularly, you know by now that one of my pet peeves is my inability to  cook for two! In these COVID-19 times, I have to say I am getting better, but I am nowhere near where I ought to be! So, here I am again with extra Daal Makhani. I had made it for lunch the other day (for that Thaali menu, click here). For a couple of days I let it sit in the fridge thinking I'd use it another day when I was running short on time to make lunch/dinner. For one reason or the other, it did not make it on to the menu that week because we were not eating Indian food for most part. By the time the weekend came and I saw the container still  sitting there, I knew I had to do something. What else was lurking in the fridge? I saw that I had Methi Theplas left over from another meal. Bell peppers of all colors. Triple Cheddar Cheese. Then when I was out for a walk, I spotted fresh corn with the street vendor and quickly bought it! Now what? Hmmmm….Slowly, an idea was starting to form in my head. It was also the time when we were wanting to veer away from traditional desi food for a few days! Correction: I was beginning to have desi food fatigue!
So, out comes the Goya Seasoning: a readymade spice mix for Latinx food, rice, oregano, jalapeño peppers, corn, bell peppers, cheese, and what to do for enchilada sauce? Daal Makhani! And what do I do for Tortillas? Theplas!! Same to Same no? As they say in India.  Desified Enchilada Heaven Ready!! Close to home, yet so far away….and oh so comforting! Believe you me, there will be plenty of leftovers with this as well which will make you a star when you pack it up for neighbor-friends! But, don't take my word for it, cook and see I say!
Here are the before and after baking pictures of this gorgeousness: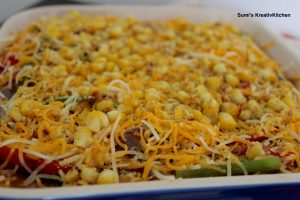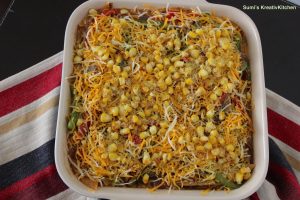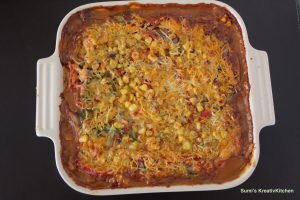 I served this with Mexican rice and a fresh Raspberries and greens salad!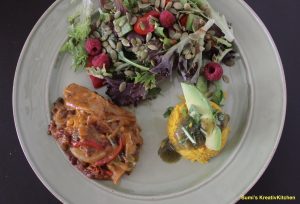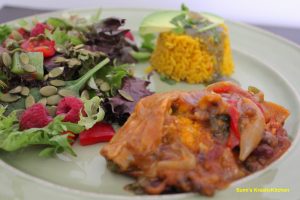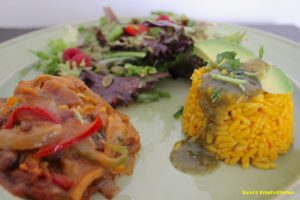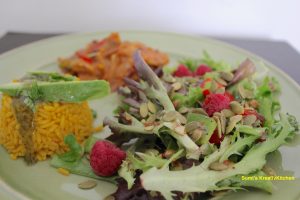 DESIFIED ENCHILADAS: LEFTOVERS TRANSFORMATIONS 4!
Yield:

8 SERVINGS

Prep Time:

30 MINUTES

Cook Time:

45 MINUTES
Ingredients
4 cups Leftover Daal Makhani
4 Leftover Methi/Regular Theplas/Rotis
2 Medium Red onions
1 Red Bell Pepper and 1 Green Pepper
1 Fresh corn or 3/4 cup thawed frozen corn.
3 tbsp Mexican seasoning
1.5 cups grated Triple Cheddar Cheese
3 tbsp Freshly squeezed Lime Juice
4 tbsp Finely chopped Cilantro
2 garlic cloves minced
Instructions
Preheat the oven to 425 degrees Fahrenheit.

To a bowl, add 1 tbsp of olive oil+ 1bsp of fresh lime juice+ 1/4 tsp of freshly ground black pepper and salt to taste . Whisk well. Take the fresh corn off the cob and add to the bowl*. Mix everything well and spread in a single layer on a baking sheet. Roast in the over for around 6-7 minutes till the edges start getting light brown. Take it out and allow to cool.

While the corn is getting roasted, slice 2 medium sized onions and the bell peppers.

Heat oil in a skillet. Add 2 finely chopped onions, reduce heat and sauté till they get soft but not brown. Add 2 minced garlic cloves and sauté well. Add 1 red and 1 green sliced bell peppers and readymade Mexican Seasoning. Sauté everything on medium heat till they get slightly soft but not overcooked. Turn off the heat and allow the veggies to rest. Add 2tbsp of fresh lime juice and 4 tbsp of finely chopped cilantro.

ASSEMBLING THE ENCHILADAS:
NOTE: Ensure that the oven is preheated at 425 degrees Fahrenheit!
a. Whisk the Daal Makhani well with a little hot water if needed. Ensure that it is pouring consistency.
b. Cut up the Theplas/Rotis into long strips.
c. Take a baking dish which is around 2" deep and grease it lightly.
d. Take a big ladle and add 2 spoons of the Daal Makhani to the bottom of the baking dish.
e. Lay flat half of the Thepla strips on the Daal Makhani.
f. Spoon the onion/bell pepper mix on top.
g. Generously cover this with half of the grated cheese mixture.
h. Repeat the layers (Daal Makhani, Theplas, Onion/bell pepper mixture and cheese).
i. Now take the roasted corn and spread it in a single layer on top.
j. Sprinkle a little bit of the spice mix on the roasted corn.
k. Bake in the oven for 35 minutes till the cheese has melted and bubbling.

Take the enchiladas out of the oven. Yes, yes, I know, you are drooling by this time and it is taking all your willpower to not dive in and scald yourself! But I promise you, it is worth the wait. Be good and quickly toss a healthy crisp salad to go with this beauty!

Use a knife to cut out a large portion for yourself, scoop it on your plate, serve others (or maybe not?), pile on the salad and go for it! Remember to blow on your fork before putting it in your mouth in your own self-interest!!! 🙂
Notes
Notes to the Chef:
* If you do not have fresh corn, no problems! Just thaw out 3/4 cup of frozen corn. Pat them dry with a paper towel to ensure that there is no moisture. Roast them first with a little bit of olive oil. When they get brown, add the dressing on top and mix well and keep aside. Adding the dressing to frozen corn will make it too wet and mushy and lose the texture.