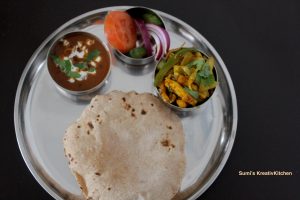 THAALI: In every corner of India, Thaalis are ubiquitous. A Thaali or 'Plate of Food' comprises of many discrete spicy, tangy, starchy, cooling components that magically come together. So, regardless of price point, in every region of India, you will find a Thaali or as they are called in South India: 'Meals!' These days, I am stunned at the number of dishes that are served in a Thaali at many restaurants…the little steel cups of endless varieties of vegetables/meat/lentils/desserts. It's impossible to even make a dent in the sheer magnitude of food that is presented to you in these places in huge Thaalis!
I cannot claim to be doing or even attempting to replicate any of those Thaalis!! The meals that we eat are but a mini version of what is produced at these places. But also, I had not thought about it consciously till I started blogging. I realized that the times we eat meals that are not rushed or distracted, they have many individual components, each of which are wholesome. Here is one sample: A simple Punjabi Meal comprising Daal Makhani, a simple vegetable made with Cabbage, Paneer and Bell peppers, and a simple refreshing salad and fresh phulkas (fresh thin flat breads) made out of whole wheat flour and served immediately without any oil/ghee.
Note: For detailed recipes, click on the links!