Daal. Dal. Dhall. All roads lead to the oft-trodden path of lentils…and lentils galore! The variety of daals in India is simply mind boggling! And the preparations are distinct depending on what is being made. Soaked and lightly sautéed, cooked al dente, pressure cooked, pulverized, sprouted for salad additions….lentils can morph into any and every form that the chef imagines! And so, when you cook lentil and beans together and add a heady mix of spices along with tomatoes, onion, garlic, ginger, slather it with butter and cream and simmer ….till you are unable to wait any longer and burn your tongue trying to taste/gobble it!! This is what this Punjabi Daal Maakhani is….Lentils with Butter; literally. They sure know what they are doing! It is not an accident that this is also called 'Maa Ki Daal' (Mother's Daal) or Kali Daal (Black Daal) because it is made with Black Lentils.
Serve it with guilt-free phulkas (soft flat breads made with whole wheat without oil/butter), a veggie side, and a salad for a heavenly Thaali meal. Of course, if you want to treat yourself, dunk pieces of crisp garlic Naan into the daal! Or pour it over hot rice…whatever…OR….do what I did: Just serve yourself a bowl and eat it just like that: unadulterated goodness! Warning: make a big pot of it to eat it in all the ways that I've listed!
Don't believe me? Cook and see I say!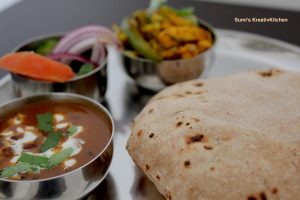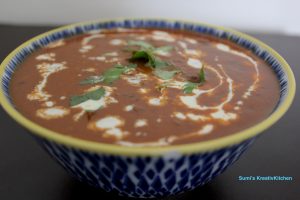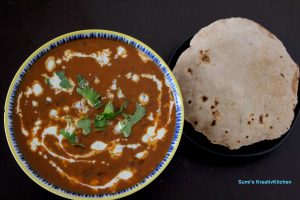 DAAL MAKHANI
Yield:

6 servings

Prep Time:

30 minutes

Cook Time:

45 minutes
Ingredients
1 cup Black Lentils (Black Urad dal)
1/4 cup Red Kidney Beans (Rajma)
3 tbsp Unsalted Butter
1 medium White Onion
4 medium Tomatoes (ripe)
2 Black Cardamoms
1 tbsp Cumin seeds
1 tbsp Ginger-Garlic paste (equal amounts of ginger & garlic ground with water to a fine paste)
1.5 tsp Red Chili powder
1 tbsp Kashmiri Chili powder
1 tsp Roasted cumin powder
2 tsp Garam Masala powder
1/4 cup Fresh Cream
2 tbsp Ghee
1/2 tsp Sugar
3 tbsp Tomato paste
2 tbsp Olive oil
Salt to taste
Chopped cilantro for garnish
Instructions
Add 1 cup of Black lentils (whole black urad dal) + 1/4 cup of Red kidney beans (Rajma) to a large bowl. Wash the lentils and beans a few times to get rid of the grime. Add 4 cups of hot water to it. Cover and leave it on the counter overnight to soak.

Next day morning, wash the lentils and beans again well and transfer to a pressure cooker. Add 2.5 cups of water.

To a small piece of cheese cloth, add 2 black cardamoms and tie it tightly. Add it to the lentils/beans.

Pressure cook it for 3-4 whistles (I cooked mine in the InstantPot for 11 minutes). When you are able to open the pressure cooker/InstantPot, fish out the cheese cloth with the cardamoms and discard. Keep the cooked mixture aside.

While the lentils/beans are cooking, prepare the following:
a. Peel and grind the onion.
b. Grind the ginger-garlic paste.
c. Blend/grate the tomatoes.

Use a pan with a lid to make Daal Makhani. Heat 2 tbsp of Ghee + 1 tbsp of butter + 2 tbsp of olive oil in the pan.

Add 1 tbsp of cumin seeds and allow to splutter.

Reduce the heat to low and add the ground onion (splash alert! stand back!). Sauté briskly and cover partially. Repeat. The onion will start to turn light brown.

Add 1 tbsp of ginger garlic paste and sauté again till the raw smell of the onions/ginger/garlic dissipates.

Add the blended/grated tomatoes (splash alert! stand back!). Ensure that the heat is low.

Add 1.5 tsp of red chili powder + 1 tbsp of Kashmiri red chili powder + 1 tsp of cumin powder + 2 tsp of Garam Masala powder. Sauté well on medium heat for 1-2 minutes, then cover and cook for 5-6 minutes till the oil leaves the sides of the pan.

Add the cooked urad dal and rajma to the mixture.

Add 1 cup of water. (Ensure that it is thickish and not runny).

Mix 3 tbsp of Tomato paste in a little bit of hot water, whisk well and add to the Daal.

Allow the Daal to boil for 8-10 minutes on medium heat.

Use a spoon to take out 1/4 cup of the dal. Blend it with a little bit of water and add it back to the daal to bring it to the desired consistency.

Add 1/4 cup cream + 2 tbsp of butter + 1/4 spoon of sugar to the daal.

Partially cover the pan and allow the Daal to simmer on medium heat for 35-40 minutes.

Turn off the heat and allow to rest for a few minutes before serving.

Garnish with cream and chopped cilantro and serve with rotis, naan, or parathas!