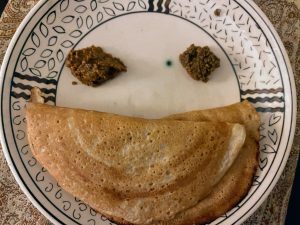 I think I have declared long back that I am nothing if not food-centric! I dream of food 🙂 Recently, the dreams have been about questing around healthy versions of favorite things!!! I shifted to millets many years ago, but found that of late, my stomach is protesting the replacement of quinoa with millets! So, it's back to quinoa and red rice (my latest love!! More about that later!). BUT, what to do with the packs of millets that I have bought up like there is no tomorrow? Panch told some friends who came over for an unplanned dinner that "sumi is always prepared for a nuclear event" :-/ (thoda conversation needs to happen methinks!). So, yes, should not overbuy in enthusiasm…I get it.
Anyway, back to the millet packs. So, decided that it was time to put the millets to some use. I can't eat it cooked…so maybe dosas?? Yes!!! Now that I was doing millets, I wanted to steer clear of rice. My rice-free idlis  have never failed me (if have not tried, I strongly urge you to do so!!), so decided to push some boundaries here. Out came millets and the dals! Soaked everything together (yes, together!!) for 8 hours…it softened the millets beautifully and the lentils were just right! In they went into the grinder and what resulted was a lovely smooth batter. Added salt and left it on the counter overnight. I treated it just like I would the regular dosa batter. It fermented and rose and greeted me the next morning!! And you can see here how it behaves like the regular deal…spreads nicely, and crisps up and makes you want to eat it off the tava (no prizes for guessing if I did!). And to extend my virtous streak, I did NOT make coconut chutney! Instead tried out two new chutneys/thogayals; mango peel & ridge gourd peel chutney and a charred red pepper thogayal…both spicy yummy accompaniments to this dosai!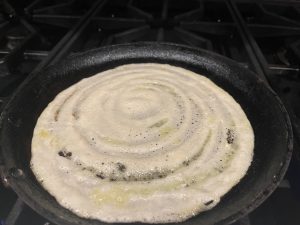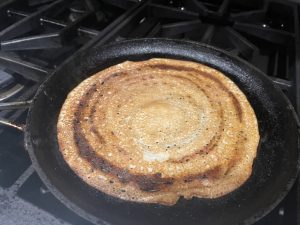 Now cook and see!!
FOXTAIL MILLET DOSA
Yield:

20 Dosas

Prep Time:

8 Hours (fermentation time)

Cook Time:

5 minutes
Ingredients
3 cups (any cup that you want to use) Foxtail millet
3/4 cup Whole Urad dal (gota urad)
1/4 cup Chana dal
1 tsp Methi seeds
Instructions
Soak the millets and the dals and the methi seeds for about 6-8 hours

Grind all of them together to make a smooth batter

Ferment overnight or for 8 hours

Take a little batter in a bowl, add a little water to thin it out (but not too thin) and make it like you would a regular dosa.

Enjoy hot with chutneys and sambar!