The one thing that is vanishing with great speed in this lockdown are the snack items in the pantry! While we are not great snackers, when you peck on it even a little a day, they do disappear rapidly. So, I was bemoaning this to my friend Jayashree Jaidev and she, like me, a die-hard Mumbaikar told me that she had just made a batch of Poha Chivda!! The light bulb went off…and I sprinted to the kitchen and in 10 minutes had this beauty ready for consumption much to Panch's glee!!  Talk about instant gratification….this does it. I realized that I was a little heavy handed with the turmeric powder, but who cares? Just gobble!  The best part of this recipe is that you can easily substitute peanuts with any other nut of your choice, add other ingredients that you may wish. Traditionally, folks add some golden raisins too. But I am nothing if not a spice lover, so needless to say, raisins did not make it into the Chivda!!
Just cook and see I say!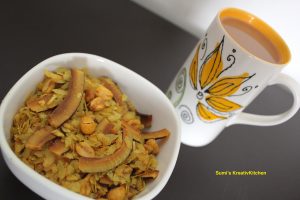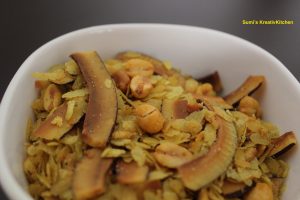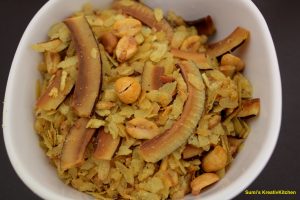 POHA CHIVDA
Yield:

15 servings (or less depending on consumption!!)

Prep Time:

2 minutes

Cook Time:

10 minutes
Ingredients
Poha (thin preferably)/Beaten rice flakes: 2 cups
Peanuts: 3/4 cups
Roasted coconut chips: 2/3 cup
Turmeric powder: 1 tbsp
Mustard Seeds: 2 tbsp
Curry leaves: 3-4
Sugar: 1 tbsp
Aamchur (Dry Mango powder: 1 tbsp
Green chilies: 4
Instructions
Heat 2 tbsp of olive oil in a big wok.

Add 2 tbsp of mustard seeds and allow to splutter.

Add 4 finely chopped green chilies + 3/4 cup skinless peanuts and sauté till the chilies wilt a little.

Add 3/4 cup roasted coconut chips and tear 3-4 curry leaves and keep sautéing.

Add 1 tbsp of turmeric powder + Salt to taste and mix everything well.

Reduce the heat to low and add 2 cups of poha.

Mix all the ingredients well to coat the poha with the turmeric powder.

Add 1 tbsp of sugar + 1 tbsp of aamchur.

Keep roasting till the poha develops a brittle texture (you will need to taste to know that you have gotten to this point. It should take about 8-9 minutes).

Turn off the heat and keep roasting the poha in the residual heat.

On the side make yourself a hot cup of Ginger Cardamom Tea. Spoon the Chivda into a bowl. Sip Chai, drop a spoonful of Chivda into your mouth and enter blissful state and congratulate yourself on producing the best snack every in under 10 minutes!!