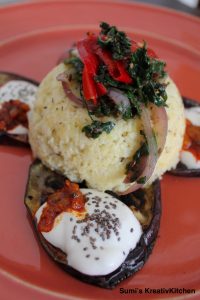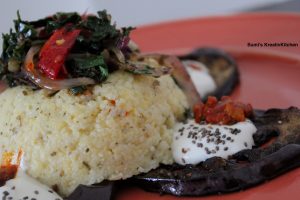 I think of myself as incredibly 'food-focused', but boy, this virus has given that phrase a whole new meaning! And because we are shopping less and infrequently, I am looking at ingredients in my pantry and refrigerator and freezer and thinking of things to do with them and finding ways to put them together to make a healthy and homogenous meal. And the other imperative: change it up!
So, here is the story of building a meal:
POLENTA: I am a huge grits and polenta lover. And I know that there are many that detest them….but I find them so comforting…give me a bowl of hot creamy cheesy grits/polenta with loads of cracked black pepper, and I am a happy camper! So, when I was looking to change up the lunch menu, polenta became the star of the show :-). But this time around, in an effort to eat healthy, I made it low-calorific than it usually merits.  A small size eggplant was begging for attention in my refrigerator, so I brought it out and thought I'd made a roasted eggplant salad. But as you see, it became a key accessory rather than a side dish. Next came the health imperative: so spinach to the rescue!!  And, if you have been reading my blog and making some of my recipes, you'll know that I am nothing if not a spice lover! So a pantry staple, i.e. spicy roasted peppers were my crowning glory along with some good homemade green mango pickle! (for the recipe, look here).
No standards or 'perfect' recipes to follow, just do what your heart says, create and enjoy! In the end, this was a rather simple, quick, and incredibly easy layered meal to put together when I was juggling multiple meetings.
But don't take my word for it, cook and see I say!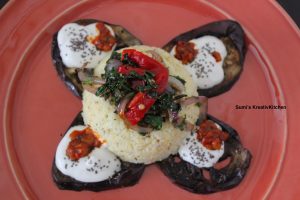 POLENTA & ROASTED EGGPLANT
Yield:

2 servings

Prep Time:

15 minutes

Cook Time:

45 minutes
Ingredients
1/2 cup polenta
1/2 cup low fat milk
1 tbsp Italian seasoning
2 tbsp freshly ground black pepper
1 cup of chopped Fresh spinach
1 small onion sliced
1 tsp of Za'atar
1 medium size eggplant
1 tbsp of lemon salt-pepper*
1/2 cup of thick whisked yogurt
1/2 tbsp of chia seeds
Ready made Hot peppers in olive oil
Homemade green mango pickle or any ready made Indian pickle.
1 tbsp of butter
2 tbsp of heavy cream
Instructions
For the Polenta:
a. Take 2 saucepans. In one heat up 2 cups of water and allow it to boil.
b. In the second sauce pan, heat 1.5 cups of water + 1/2 cup of low fat milk in a saucepan.
b. Add salt to taste and 1 tsp of olive oil. Bring it to boil.
c. Keep a whisk handy. Reduce the heat to medium and slowly drizzle the polenta into the boiling liquid and start whisking vigorously. When the polenta is well mixed into the liquid, close the lid and allow it to cook on medium heat.
d. Keep checking every 3-4 minutes and mixing with a flat spatula. It does take at least 20-25 minutes to cook till it is really soft and smooth but not dry. If you feel that it needs more liquid, add some more hot water that you have had boiling. Whisk, fold, and ensure that there are no lumps.
e. Add 1 tbsp of Italian seasoning and 2 tbsp of freshly ground black pepper.
f. After the polenta is fully cooked, add a tbsp of butter and 2 tbsp of heavy cream. Mix well and ensure that they are fully incorporated.
g. Keep the pan covered to prevent it from drying out.**

For the Eggplant Layer:
a. Slice one medium size eggplant into 1/4" thickness and place them on a greased skillet.
b. Season both sides with lemon salt-pepper.
c. Allow the slices to stay in the skillet and crisp up.

For the Spinach topping:
a. Heat 2 tbsp of olive oil in a pan.
b. Add the sliced onion and sauté on medium heat.
c. Add 1 tsp of salt. Allow the onions to sweat and become translucent but not brown.
d. Add 1 cup of finely chopped fresh spinach. Allow the spinach to wilt and mix well with the onions.
e. Add freshly ground black pepper.
f. Add 1 tsp of Za'atar. Mix well.
g. Allow the mixture to cool.

For the Yogurt layer:
1. Take 1/2 cup of thick yogurt in a bowl and whisk till smooth.

Getting ready to eat!!!
a. Take a plate.
b. Take a few slices of the eggplant and place them in a circular pattern on the plate.
c. Grease a cup and fill it (as small/large as you like) with the polenta. Plonk it in the middle of the plate overlapping with the eggplant slices. Unmould quickly.
d. Top the polenta with the spinach-onion mixture.
e. Garnish with the spicy sliced peppers.

Take a small spoon and add a dollop of yogurt on each of the yogurt slices. Sprinkle some chia seeds on the yogurt. If you slice more spice (like me), add a teeny bit of pickle. Try to not allow your drool to fall on the plate 🙂

Stand back, admire your handiwork, and attack!! Trust me, it will be gone in minutes! Prepare for a siesta....trust me, you will need it!
Notes
Notes to the Chef:
For all you vegans out there, feel free to of course leave out the milk, butter and cream or substitute with vegan substitutes. There is so much other seasoning and flavors going on here that you will not miss it at all!
* Lemon Salt-Pepper: I got this ready made, but it is pretty simple to make and imparts great flavor. Take 2 tbsp of coarse salt. Add 1 tbsp of freshly ground black pepper. Add 1/4 tsp of dry mango powder if you have it. Use a microplane to finely grate a whole lemon and a small lime into the salt. Mix them well and place in an airtight container and store in a dry place.
** I would make the polenta just an hour before you are ready to eat so that you are not reheating the polenta. If you do have to do that, make sure to add boiling liquid to the mixture and whisk well to make sure that there are no lumps.