Fall is here and with it comes the gorgeous orange pumpkin! There are so many different varieties of pumpkin/squash I realized only after coming to the U.S. I am yet to meet one that I dislike! They are so versatile  and stand up to diverse flavors and treatments. I am, however, partial to the reddish-orange pumpkin that is commonly available in India. Here is one recipe for a dry pumpkin vegetable typically made in South India.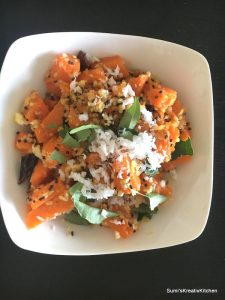 INGREDIENTS
Pumpkin, Mustard Seeds, Urad dal, Turmeric, Asafoetida, Dried red chilies, Jaggery, Freshly grated coconut, Curry leaves.
RECIPE
Peel the pumpkin skin and cut it up into thick chunks (1 cup).
In a small cup, add a 2″ piece of jaggery. Pour hot water just enough to submerge the jaggery. Allow the jaggery to melt and keep aside.
Take a pan that has a snug lid and heat 1 tbsp of oil.
Add 2 tsp of mustard seeds.
After the seeds splutter, add 3 tsp of urad dal and break 2 dried red chilies and saute till the dal turns light brown.
Lower the heat and add 3-4 curry leaves as well and saute.
Add the pumpkin chunks.
Add 1/4 tsp of turmeric powder, and 1/2 tsp of asafoetida, mix everything with a flat spatula.
Add 1/4 cup of water to the pan.
Add the molten jaggery water and mix everything well and close the lid tightly.
Cook for 5-6 minutes on medium flame.
Uncover the pan and check if the pumpkin has softened but stays firm. (Test with a toothpick or the point of a knife). Sprinkle some additional water if the pumpkin is still raw and allow it to cook.
Ensure that all the water has evaporated.
Sprinkle 4 tbsps of freshly grated coconut and garnish with fresh curry leaves.
Serve hot with rice and a spicy tamarind curry!