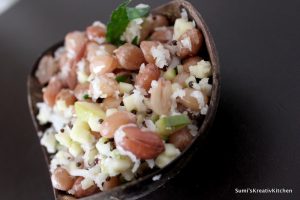 Sundal. A staple side dish in many South Indian households, but the star during Navarathri/Navratri times! Nine nights, Nine Sundals! Sundal is typically cooked legumes of various kinds. The discerning cooks prefer to make it al dente, cook it just enough to allow the legumes to hold their shape and also provide a light bite. Some sundals are also sweet! That, for another time. Here is a personal favorite of mine. On the beaches in Chennai, a version of this is sold as a popular snack!
INGREDIENTS
Peanuts, Raw green mango, Freshly grated coconut, Mustard seeds, Dried whole red chilies, Asafoetida, Freshly squeezed lemon juice, Sugar, Curry leaves.
RECIPE
Grate 1/4 cup of fresh coconut.
Finely dice raw green mango (approximately 1/4 cup)
Take a cup of peanuts and add 2 cups of water to it.
Pressure cook the peanuts lightly (Just one whistle and do not open the cooker in a rush. Allow it to cool down completely).
Drain off all the water from the peanuts.
Heat oil in a wok.
Add 1 tbsp of mustard seeds.
Break 2 dried red chilies into the oil.
Add 1/2 tsp of asafoetida/hing and tear up 6-8 curry leaves and saute lightly.
Turn off the heat and add the drained cooked peanuts to the wok.
Add salt to taste, 1tsp of freshly squeezed lemon juice and 1/4 tsp of sugar. Mix well.
Allow it to cool down a little and add the chopped mango and grated coconut.
Mix all ingredients well and serve at room temperature.