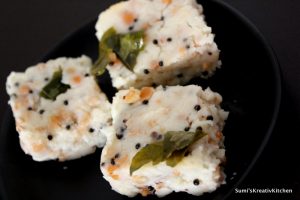 Grandmothers…..I think they are a thing! The absolute real deal. My brothers and I were lucky to have our maternal grandmother (we never met our paternal grandmother) around till we were well into our adulthood so the memories are endless! I watched and admired her meticulous ways of home-making and churning out delectable goodies effortlessly from very humble ingredients!
Mor Koozhu was one such dish! Loosely translated, it is buttermilk porridge. But read on and you will see how this seemingly unappetizing porridge is a remarkably easy and yummy savory cake!
From start to finish, this can be made within 20 minutes (excluding the time you take to gather your ingredients!!)
INGREDIENTS
Rice flour, Sour Yogurt, Sesame oil, Mustard seeds, Chana dal, Urad dal, Asafoetida (hing), Dried red chilies, Dried pickled green chilies in sour buttermilk (Mor Milagai) (optional), Curry Leaves, Cilantro.
RECIPE
In a large bowl, take 2 cups of sour yogurt and whisk it well to make a thick buttermilk.* Do not add water.
Heat a little oil and fry 3 Mor Milagai and keep aside. **
Add 1 cup of rice flour to the buttermilk and mix really well to ensure that there are no lumps. You can add  just a little water if needed to loosen it but not too much.The batter should be of thick pouring consistency. Add salt to taste.
Tear up 8 curry leaves into small pieces and add to the buttermilk-rice flour mixture, add 1 tsp of finely chopped cilantro.
Break each of the fried Mor Milagai into 2 and add the pieces to the batter.
In a wok/kadai, heat 1/2 cup of sesame oil (yes, it is a lot of oil!)
Add 2 tbsp of mustard seeds, 1 tsp of hing, 2 tbsp of chana dal, 2 tbsp of urad dal, 3 red chilies broken into small pieces.
Saute till the dals are light brown in color, reduce the heat to medium.
Add the batter to the oil quickly.
Start mixing it with the fried dals and fold them into the batter with a flattish long spoon. Keep breaking and folding the batter in the oil till the batter is fully cooked. This will take not more than 6-7 minutes. You will see the batter change color when it is fully done and the raw smell of rice flour vanishes. The whole mixture will come together like a single blob of dough and will smell heavenly!
Mor Koozh is done! You can simply serve this immediately in a bowl and eat up! However, here are a couple  of next steps to get the 'cakes' which are an easy picker-upper snack!
  Take a small bowl with a flat base and grease it with a drop of oil.
Take a largish plate and dump the Mor Koozh on it. With the  back of the greased bowl, spread the Koozh fully. Allow it to rest for half hour. Then cut it up into desired shapes.
Serve at room temperature. ***
For those of you interested in serving this at a party with a slight variation, here is the savory rice cake dressed up fancily! 
Tips for the Chef: 
*I found that using Greek yogurt which is naturally tangy is a great substitute if you don't have buttermilk. However, if you are using Greek yogurt, you will need to use only 1.5 cups and add 1/2 cup of water since it is very thick.
**This is a completely optional ingredient. Mor Milagai, i.e. Chilies in Buttermilk is nothing but green chilies marinated in yogurt and salt and sun-dried for days till they turn dry and brown. These ultra briny things are eaten typically on hot summer days with cold yogurt rice or with porridge.
***This is a classic make-ahead dish. So you can make it even couple of days ahead and store in a box in your refrigerator! But make sure to bring it to room temperature before serving. Do not reheat in a microwave!