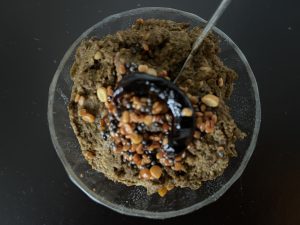 The thing that amazes me about traditional Indian cooking is how they always adopted zero-waste strategies well before it was a thing! They just did it and it was just part of who they were and how food was made and consumed. So beautiful and seamless…..How we've moved so far out and have tonow  be reminded of those practices and re-align ourselves and our lives to the ways that are good for our bodies and for the planet. Living gently and eating mindfully….
I am trying….truly. But don't always succeed.
But this time, the peels magic worked 🙂
I was making a Kerala-style mango curry with semi-ripe mangoes for which I had to skin the mango. I decided to save the peels. Was also making a peerkanga (ridge gourd) chutney another day, so saved those peels too. They sat patiently in the fridge waiting for me. The ridge gourd peels got a little miffed and dried up. I decided to get them out of the cold and into the warm wok with fried urad dal and chilies and allowed them to hang out together…then in they all went to the blender with tamarind and salt and a bit of jaggery powder…and came out as if they had been together always! Just stunning. I decided to honor the star thogayal and worked around the lunch menu around it. It is spicy, so needed something to cool off, so coconut and tomatoes pachadi, and a mild spinach and zucchini kootu, (you can pretty much make kootu out of anything) a traditional preparation that is mild but yet holds its own on a plate. And of course, I cannot eat a meal without a salad, so freshly grated carrots with finely chopped tangy granny smith apple.
Lunch plate: Dollop of thogayal on hot red rice drizzled with sesame oil took centerstage and with all the others gazing at it so enviously, this is a dream meal!! This thogayal has my heart and it will have yours too!! Cook and see and thank me later!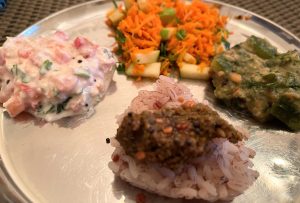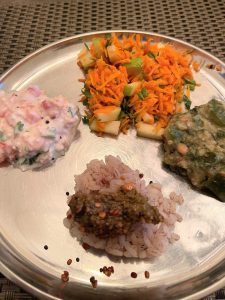 When I decided to embark on this rice-free dosa journey,  I decided to not go with coconut chutney or the molaga podi as I usually do. This thogayal was an amazing consort! Another chutney was a charred red bell pepper thogayal that is featured on the plate.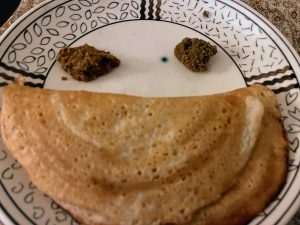 PEELS MAGIC THOGAYAL
Yield:

3/4 cup

Prep Time:

15 minutes

Cook Time:

5 minutes
Ingredients
1/2 cup chopped up peels of a 1 medium mango
1/4 cup chopped up peels of half a ridge gourd (peerkanga)
1/3 cup Urad dal
6 dried Red chilies
1/2 tsp Hing
1.5 tbsp thick Tamarind paste
1 tbsp Jaggery powder
For the tempering: 1/2 tbsp of mustard seeds +1 tbsp each of urad dal and chanal dal and 2 red chilies
Instructions
Skin the mango and the peerkanga and chop up the peels roughly.

Heat 1 tbsp of olive oil in a pan and add 1/3rd cup of urad dal and 6 dried chillies and roast till the dal turns golden brown and the chilies crisp up. Add 1/2 tsp of hing and mix well.

Add the chopped peels and saute everything together and cover the pan and allow the peels to soften lightly.

Add everything to the blender along with 1.5 tbsp of thick tamarind paste and 1 tbsp of jaggery powder along with salt to taste.

Blend everything to a smooth paste with just a little water and transfer to a bowl.

For the tempering: Heat 1 tsp of olive oil and add 1/2 tbsp of mustard seeds and allow to splutter, then add 1 tbsp each of chana dal and urad dal and 2 dried red chilies. Saute till the dals turn a golden brown and pour on the thogayal.

Add a dollop of the thogayal on a grain of your choice, drizzle some sesame oil and serve hot with a cold pachadi!