While I love to experiment and play with ingredients, most times, I guess we all gravitate towards fast, simple and comforting recipes. This Mung Dal is one of them! Given that Mung Dal or Moong Dal is a staple in most Indian kitchens and hence this makes it  even more accessible! It is a super healthy, complete no-brainer which even novice cooks can make and savor!
Cook and see I say!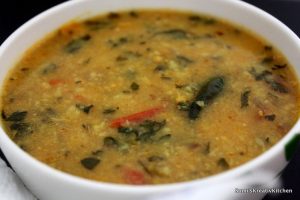 MUNG DAL
Yield:

4 servings

Prep Time:

10 minutes

Cook Time:

25 minutes
Ingredients
Yellow mung dal (moong dal): 1 cup
Cumin seeds (jeera): 1 tbsp
Fennel seeds (saunf): 1 tbsp
Green chilies: 3
Tomatoes: 3
Turmeric powder: 1 tsp
Olive oil: 1 tbsp
Ghee: 1/2 tbsp
Finely chopped Cilantro: 4 tbsp
Freshly squeezed lemon juice: 2 tbsp
Instructions
Wash 1 cup of mung dal and place into a pressure cooker/Instant Pot with 2.5 cups of water and pressure cook till it is really soft and mushy. *

Heat 1 tbsp of olive oil and 1/2 tbsp of ghee in a pan.

Add 1 tbsp of jeera and allow it to splutter. Reduce the heat and add 1 tbsp of saunf. Sauté vigorously just for a few seconds.

Add 3 ripe, medium size finely chopped tomatoes and 3 vertically slit green chilies. Add salt to taste and sauté well.

Add 1 tsp of turmeric powder and mix well. Partially cover the pan and allow the tomatoes to cook down and get mushy (about 3-4 minutes). Ensure that they don't burn/stick to the bottom of the pan.

Reduce the heat and add 1/4 of water.

Use the back of a heavy spoon to mash the cooked dal well. Add to the tomatoes and mix well. Add 3/4 of water (or less/more depending on your preference of the dal's consistency). Allow the dal to cook for about 6-7 minutes.

Add 2 tbsp of freshly squeezed lemon juice and garnish with 4 tbsp of finely chopped cilantro.

Pour the hot dal on piping hot rice/quinoa or enjoy with rotis/naans.
Notes
Notes to the chef:
* I use the Instant Pot and cook it for 10 minutes and allow it to cool completely before opening it. You can cook it on the stove top too, but it just takes longer and you need to watch it constantly for the quantity of water and consistency.