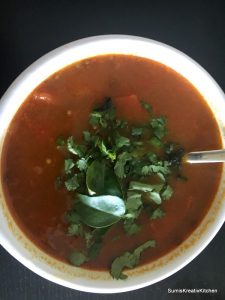 Easily, this is one of the most satisfying of the South Indian curries! Most folks may not know that there are so many different varieties of Rasam and each one is more delicious than the other! It is my go-to thing when I want a spicy, easy, no-fuss Indian soup! Sometime back, I had posted the recipe for Jeera (Cumin) Rasam which many of you enjoyed. Here is another one for sure to beat the cold that some of us are experiencing in the North East! This particular one is a tangy, tomatoey version which takes precisely 15 minutes to make! It is called 'Gottu Rasam.' Try it and I promise  you will not be disappointed!
INGREDIENTS
Tamarind pulp, Tomatoes, Ghee, Mustard seeds, Cumin seeds, Whole coriander seeds, Whole dried red chilies, Turmeric powder, Asafoetida/Hing, Sambar powder, Rasam powder.
RECIPE
Chop 2 medium size ripe red tomatoes into 1″ pieces.
In a pan, heat up 1 tbsp. of ghee.
Add the tomatoes and saute for a minute.
Add 1.5 cups of water.
Add 3 tbsp. of thick tamarind paste.
Add 1 tsp of turmeric powder + 2 tbsp. of sSambar powder + 1 tsp of hing and mix well.
Allow to cook on medium heat till the mixture reduces and gets thick. This should take about 7-8 minutes.
When the mixture thickens, add 2 tsp of Rasam powder and mix well.
Add 2.5 cups of water to and increase the heat and allow the rasam to boil for 3-4 minutes.
For the tempering: Heat 1 tbsp. of ghee*, add 2 tbsp. of mustard seeds + 1 tbsp. of cumin seeds + 1.5 tbsp. of whole coriander seeds + 2 dried red chilies broken into halves. Allow the seeds to splutter and  roast well and pour quickly on the hot rasam.
Garnish with freshly chopped cilantro and curry leaves (as much or as little as you like).
Pour on steaming rice and serve with a side of roasted vegetable like Arbi and salad of your choice!
Notes to the chef:
*If you want to go vegan, substitute ghee for canola oil. It will make a slight difference in taste, but yummy nevertheless!!