Sepankizhangu Roast as it is popularly known in many Tamilian households is one of the simplest vegetables to make and one that has a high effort to taste ratio!! Arbi as it is called in Northern India is made in so many different ways across India and I know of folks who detest it's sliminess when initially cooked and have turned away permanently. But I say to them: you ain't seen the transformation that can happen when this maligned root is cooked and roasted to perfection with spices and when it loses all its slippery quality! Yes, it is high-carb and not so great for those watching their diets, but shun it not people, for it is great even if you only peck at it! I will post more recipes of colocasia later, but here is one authentic Tamilian version!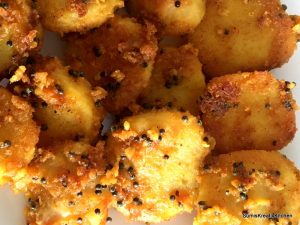 INGREDIENTS
Sepankizhangu/Arbi/Colocasia, Rice flour, Semolina, Mustard seeds, Turmeric powder, Red chili powder, Asafoetia/Hing.
RECIPE
Wash 10 medium sized Arbi well and rid it of all the grime and the dirt. 
Place the 10 arbis in a pressure cooker and cook only till it is cooked yet firm. Do not overcook, the arbi will get mushy. (Note: You may even pressure cook it in the Instant Pot, which is what I did for 12 minutes plus the cooling time). Alternatively, place them in a large pot with a lot of boiling water and allow to cook till they are cooked through but firm.
Peel the cooked colacasia and allow to cool. Cut into 1/4″ discs and set aside.
In a small bowl add 4 tbsp. of rice flour + 1 tsp of Semolina + 1/2 tsp of Turmeric powder + 1/2 tsp of Red chili powder + a pinch of salt. Mix well and keep aside.
Heat 4 tbsp. of oil in a large flat bottomed skillet or a big wok.
Add 2 tbsp of mustard seeds and allow to splutter.
Add the sliced arbi. Mix very gently and spread the slices all around the pan in one single layer. Do not cover!
After a couple of minutes, add 1 tsp of turmeric powder, 2.5 tsp of red chili powder and 1 tsp of hing. Mix the spices with the arbi and again spread them out at the bottom of the pan or on the sides of the wok in one layer and allow to roast on medium heat for 3-4 minutes.
Sprinkle the rice flour mixture all over the slices and mix everything well and turn on the other side again allow to roast for 3-4 minutes.
Add 2 tbsp. of oil all over the slices and let them roast for another couple of minutes. Toss again to ensure that both sides are golden brown.
Serve hot with piping hot Rasam and rice! And get ready for a long siesta!!!