I really believe that soups are an under appreciated food group. Easy to make and loads of goodness is what it is usually! And during these of remote work, it has been soup to the rescue on more days than one :-). So, here is a simple one requiring minimal processing and baby sitting but packed with flavor with three star ingredients: bell peppers, lemon, and ripe red juicy tomatoes! Throw in some things from the pantry and you have yourself a hearty and satisfying soup du jour!
Cook and see I say!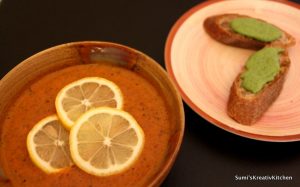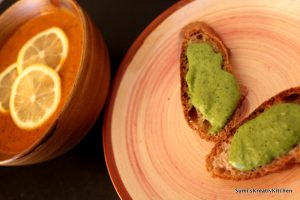 LEMONY TOMATO SOUP
Yield:

4 cups

Prep Time:

15 minutes

Cook Time:

40 minutes
Ingredients
Tomatoes: 4
Red bell peppers: 1
Lemon: 1
Onion: 1
Garlic cloves: 2
Carrot: 1
Milk/Cream: 1/4 cup
Freshly ground black pepper: 1 tbsp
Dried Basil: 1.5 tbsp
Italian seasoning: 1 tsp
Olive oil: 2 tsp
Butter: 2 tbsp
Instructions
Preheat the oven at 400 degrees Fahrenheit.

Spray a baking sheet with olive oil. Slice 2 tomatoes + half the red bell pepper (face down) + and 1 thinly sliced lemon and place them on the baking sheet with adequate space between each slice.

Grill in the oven for 12 minutes. Take the veggies out of the oven and allow to cool completely.

In a saucepan, heat 2 tbsp of butter and 1 tsp of olive oil.

Add 2 cloves of garlic minced. Sauté lightly.

Add one sliced onion and sliced half red bell pepper. Sauté on medium heat till the onion is translucent.

Add 1 medium carrot thinly sliced.

Add 2 tomatoes roughly chopped.

Add salt to taste, 1.5 cups of water/vegetable broth, mix all the vegetables and allow them to cook completely.

Add this to the blender along with all the grilled vegetables. Blend to a fine puree.

Strain the soup into a large pan.

Add 1 tbsp of freshly ground black pepper + 1 tsp of Italian seasoning + 1.5 tbsp of dried basil.

Allow the soup to come to a boil.

Add 1/4 cup of cream or 1/2 cup of milk. Mix well and bring it to a simmer.

Serve piping hot with warm crostini!!