Now that we are home 24/7 and we are trying to eat healthy and lighter, I am trying to make a soup every night. And because I happen to LOVE tomatoes, it is the default one! So, I made this very simple but flavorful tomato soup with grilled lemons. And another day, I made a simple yellow mung dal to go with rotis. Now, I don't know about you, but no matter how much I try, I am unable to make just the right quantity for two! Invariably, I end up with leftovers. And this time, thankfully it was not a lot, but just about a cup of each that sat in the fridge and stared at me when I was contemplating what to make for dinner. Then it struck me! Why not use these 'liquids' in the dough and make parathas!! With a few additions, this turned out to be one of the best softest and tastiest parathas ever!!  I promise you, you'll want to eat more than  one 🙂 Cook and see I say!!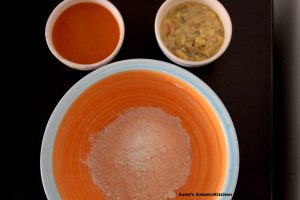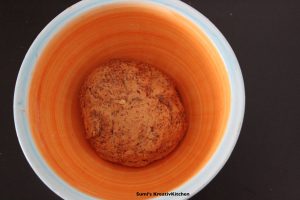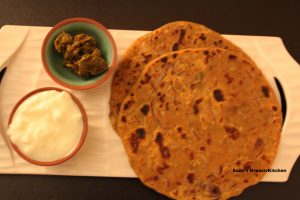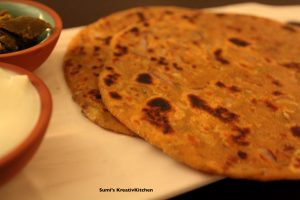 STUFFED ONION PARATHAS WITH TOMATO SOUP AND MUNG DAL
Yield:

12 PARATHAS

Prep Time:

30 MINUTES

Cook Time:

30 MINUTES
Ingredients
Left over tomato soup: 3/4 cup
Left over mung dal: 3/4 cup*
Whole wheat flour/Multigrain flour: 2 cups**
Flaxseed meal: 1/2 cup
Fennel seeds (saunf): 1 tbsp
Finely chopped onions: 1/2 cup
Freshly squeezed lemon juice: 1 tsp
Olive oil: 1/2 cup
Ghee: 6 tsp
Instructions
Chop 1 medium-size onion into fine dice. Add to a small bowl. Sprinkle some salt and 1 tsp of lemon juice. Keep aside.

In a large bowl, add 2 cups of whole wheat flour mixed with multigrain flour** + 1/2 cup of flax seed meal.

Add 1 tbsp of fennel seeds. Mix everything well.

Make a well in the center and add the dal and half of the tomato soup. Start kneading the dough. Slowly, as required add the rest of the tomato soup to make a soft pliable dough. Depending on the consistency of your soup and dal, you may/may not need to add a little bit of water to bring it all together.

Add 2 tbsp of olive oil and keep kneading the dough for 3-4 minutes. Cover and allow it to rest for 20 minutes.

Add flour to the surface of the countertop/chopping board on which you plan to roll out the parathas. Pinch a tennis-ball size dough, make it into a smooth round and make a well in the center holding it in your hand. Add 2 tsp of the finely chopped onion and close it back up to make a smooth ball.

Press the stuffed ball lightly on the countertop dusted with flour and slowly start rolling it evenly from inside out. Ensure that you are moving the paratha around constantly so that it does not tear.

Heat a griddle. Add the paratha on it and allow it to cook on both sides till light brown spots develop on medium heat. Add a little oil all around the paratha and keep pressing down with a spatula (or a paper tissue) to cook through.

Just when you are ready to serve, moisten the top with half a tsp of ghee.

Serve piping hot with a spicy pickle and yogurt! Prepare to be amazed!
Notes
Notes to the Chef:
* I had Mung Dal left over, but you can feel free to use any cooked left over dal! No rules here!
** I used Aashirwad Multigrain Atta.