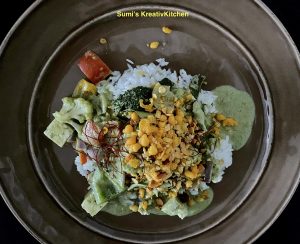 It has been so cold in New York lately and all I crave is piping hot comfort food!! And while desi is my go-to, Thai comes a very very close second!! I am obsessed with the spicy green curry (not the red or massaman which I find too sweet!). Just give me a bowl of green curry and I will be one satisfied cat!
So, I had a bunch of veggies lying around and as they say: "mauka bhi tha aur dastoor bhi…" So made my own version of Thai Green Curry! So people, don't let the absence of galangal or fresh lemongrass come in the way of you enjoying your comforting bowl of green goodness! I have made curry using this recipe and don't remember a time when it has failed me! But maybe it is my blind love for Thai curry that is speaking….but you won't know till you try it!!
But. But. But…..here it where it got interesting! In addition to everything else, I am a die-hard crunch lover. I need to have crunch in most of my foods (yes, I know what you are thinking.. it is a big downfall for sure…but hey it does not have to be fried! But hey, sometimes it is and that's okay!!). So, here I was sitting with the plate and thought it was missing something. So off I went and grabbed a bag of the classic South Indian Mixture and sprinkled it all over the top before the earnest attack. I wish I had picture of my satisfied glee-filled face 🙂 Suffice it to say, yours will be the same when you cook this and see for yourself!!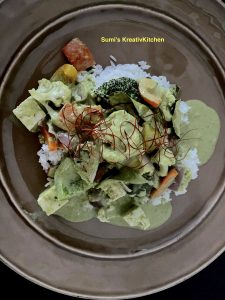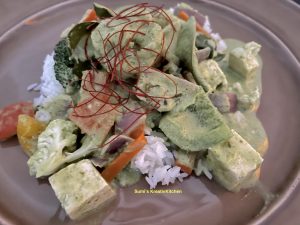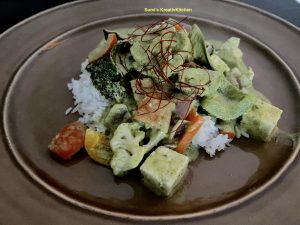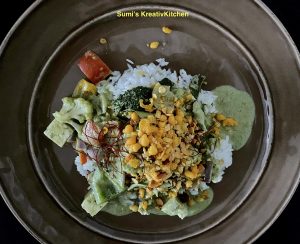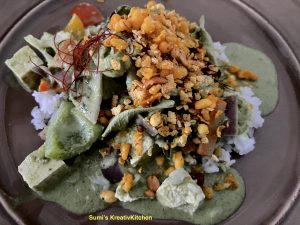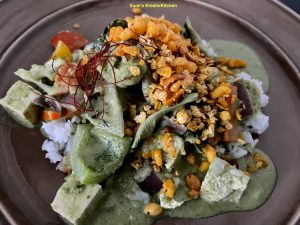 THAI GREEN CURRY
Yield:

6 servings

Prep Time:

30 minutes

Cook Time:

10 minutes
Ingredients
For the Green Curry Paste: (Ingredients 2-15)
1 cup fresh chopped Cilantro with stems
1/2 fresh Mintleaves
2" piece fresh Ginger sliced (or Galangal if you can find it)
6 spicy Green chilies
5 Dried Kaffir Lime leaves
5 Cloves Garlic
4 tbsp Lemongrass (I had frozen some)
1 tbsp Coriander powder
1/2 tbsp Cumin Powder
6 whole Black Peppercorns
1 tbsp Dark soy sauce
1 tsp Sugar
4 tbsp Fresh Lime Juice
Salt to taste
1.5 cups/14 oz of Full-fat Coconut Milk
1/4 cup Broccoli florets
1/2 cup Cauliflower florets
1/2 Red Bell Pepper
1/2 Green Bell Pepper
1/4 Orange Bell Pepper
2/3 cup Diced Extra firm Tofu
1 medium Carrot
1 medium Red Onion
A few strands of Red Chili Threads
Any short grained Rice/Brown Rice/Quinoa/Millet
Instructions
Put your rice/any other grain to cook (Trust me, you will want this one ready when the curry is done!). This is NOT your "Hum Intezaar Karenge" kind of dish!

Green Curry paste: Add Ingredients 2-15 into a blender and grind to a fine paste with a little bit of water.* Take out the paste in a beaker or a cup with a handle** and keep aside.

Wash and prep the vegetables***:
Cut the bell peppers, carrot, and onions into 1" squares.
Cut the Cauliflower and Broccoli into bite-sized florets and keep them separate.
Cut the tofu into 1" squares and place them on a kitchen/paper towel to help them dry.

Open the can of coconut milk and keep it ready.

Heat 3 tbsp of oil in a wok with a lid (important)till it is smoking hot.

Now you need to work fast and carefully. Hold the lid of the wok in one hand and with the other, swiftly add the green curry paste to the wok. Close the wok partially. The oil will sizzle like crazy and the paste is likely to splash around. Give it a few seconds. Then take a wooden spoon/silicone spatula and toss the paste till the fragrance fills your kitchen. This should take about 2-3 minutes.

Add the coconut milk and stir well. Allow it to come to a boil.

Add bell peppers, carrots, onions, and cauliflower into the curry and allow to cook for just a minute.

Add the broccoli and tofu and allow everything to meld together for another minute.

I HOPE by this time your grain of choice is ready!! Because the STAR cannot wait!!

Quickly spoon the rice on to your bowl.

Pour 3-4 ladlefuls of gorgeous piping hot curry on the rice. Watch to make sure your drool does not hit the bowl if you are not the one eating it!!

Garnish with Red chili threads and a Kaffir Lime leaf!

WAIT: Before you attack, madly sprinkle the South Indian mixture (Okay okay....or any other farsaan!!!) on top and plunge your fork into it and devour!!
Notes
Notes to the Chef:
* Lemongrass is a bit tough to grind. You may want to chop it really fine and grind it first with a couple of chilies and then add the rest of the ingredients.
** Keeping the paste in a handy container is critical since it is going into hot oil and you want to have your hand away from it!
*** I have given the list of veggies that I had on hand that day. But I have added beans, snow peas (a key ingredient which I missed that day), eggplant, and asparagus in the past. Feel free to go with what you have! This is a very forgiving curry! The paste is the key...everything merges into it!