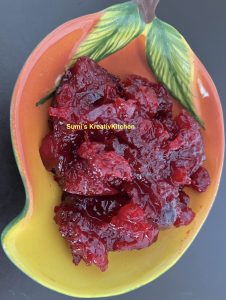 'Tis the season for these red beauties!! Each year I await November/December when these enter the markets royally and my god, are they popular!! Aur kyoon na ho? (And why wouldn't they be?) Look them!  I make the spicy Cranberry Thokku    each year and by the time November rolls in, my bottle is washed, dried and ready to be filled! This bottle stands alongside the other pickle that I make yearly, the Granny Smith Apple Thokku,   both of which are hot favorites in this household! But this time around, I decided to try out Cranberry Jam. I always find store-bought jams overly sweet….so decided to make my own. And by golly, is it easy!!! Before you know it, the jam is ready and is disappearing!! On warm toast, on baked brie, and a surprise twist to a spicy curry! Sab chalta hai!
Cook and see I say!!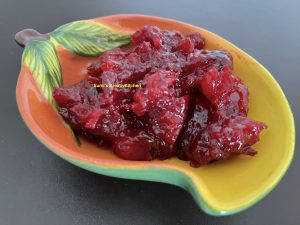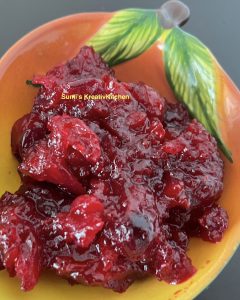 CRANBERRY JAM
Yield:

1.5 cups

Prep Time:

5 minutes

Cook Time:

15 minutes
Ingredients
12 oz Fresh Cranberries
1/2 cup Sugar
1 tbsp Ginger powder
5 tbsp Orange Juice (fresh/store bought)
Rind of 1 orange
Instructions
Wash and dry the cranberries on a kitchen towel. Grate the rind of an orange and keep aside.

Add 1/2 cup of sugar to a saucepan and 1/4 cup of water. Allow the sugar to melt on medium-high heat and keep stirring. When it thickens slightly, add 5 tbsp of orange juice.

Add the cranberries. Keep stirring the pot and partially cover.

The cranberries will start to pop and release their juices.

Add 1 tbsp of ginger powder + the orange rind and stir well.

Turn off the heat and allow to cool completely!

Store in a bottle and hid it from yourself and everyone! It will be gone before you know it!!!!!