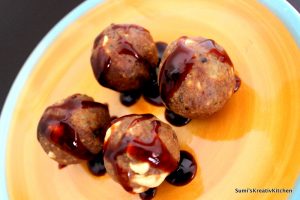 One of the things that I discovered during my short stint in Dubai were the outstanding ready-made date paste (duh??!!!) and date syrup!!! So when I felt like besan laddoos, I immediately thought of replacing the sugar with date paste! And my word, did it work like magic! And drizzled with the luscious date syrup, it made for the absolutely decadent piece of yumminess that you can hope to pop into your mouth, I promise you!! These babies stay good for about 10 days, that is, if you can stay away from them!!!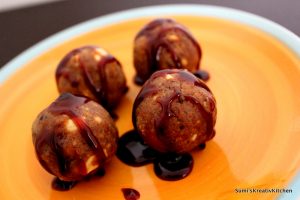 KHAJUR BESAN KE LADDOO
Yield:

Approximately 20 laddoos (depending on the size you choose to make)

Prep Time:

30 minutes

Cook Time:

45 minutes (including laddoo making time)
Ingredients
1.5 cup Readymade Date Paste*
1 cup Besan/Chickpea flour
6 tbsp Date syrup
15 tbsp of molten ghee
1/4 cup chopped Cashews
Handful Golden Raisins
1 tbsp of cardamom powder
Instructions
Take the block of date paste and grate it roughly. Measure 1.5 cups of the paste and add to a large platter. Keep aside.

Heat 3 tbsp of ghee and add 1 cup of besan. Reduce the heat to medium and roast it well till the besan turns color and a lovely aroma starts to waft in your kitchen! Once it is well roasted, add the besan to the date paste on the platter. Use a spatula to mix the two together. Add 1 tbsp of cardamom powder + a handful of golden raisins. Mix well.

Heat 3 tbsp of ghee and add 1/4 cup of chopped cashew nuts. Sauté till the nuts turn a light golden brown. Immediately add to the date-besan mixture.

Heat some ghee, and measure out 1/4 cup. Slowly start drizzling on top of the date-besan-nuts mixture. Do not add all at once. Once the mixture starts to thicken, try to form round laddoos. If they get formed, then you can stop adding the ghee. This depends on the quality of the besan and the extent of roasting. I had to add about 9 tbsp of ghee to get firm, round laddoos.

Place the laddoos on to a plate and refrigerate them for 20 minutes to set. Transfer them to an airtight container and store in a dry place till you are ready to serve!

Serving: Transfer to a serving platter. Drizzle with date syrup and serve immediately and watch them disappear!!!
Notes
Notes to the Chef:
* When date paste is not available readily, soaking and blending pitted dates with minimal water is always an option! I would just put the ground date paste in a pan and allow it to cook on medium heat to a thick paster with most of the water evaporated. Try and make this ahead of time and store in the fridge.