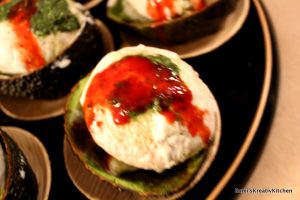 Cooling foods are what I am going for these days to beat the heat….and how can Dahi Vadas be far away right?? But then, I had some heavenly avocados on hand. Avocado toast, Guacamole, Salad, everything was done….so, Avocado Dahi Vadas it was!! And now that I was veering away from the norm, I thought, why not go the whole way?!! A couple of years ago when I was in San Antonio for a girls only weekend, we were hungry and HOT and walked into a fruit/ice cream shop. It was run by a Mexican American couple and they had an array of cold stuff that looked amazing. They were topping their fruits as well as  ic ecreams with a reddish sauce. I am not an ice cream person but the sauce peaked my interest! The lady said that it was a sweet-spicy sauce that was commonly used in their home. One lick of the sauce and I was hooked!! The sweetness was offset beautifully by a kick of spicy chilies…the perfect blend. I asked to see the bottle and they sweetly obliged. The magic topping was 'Chamoy.' I believe it is made with fruits (mangoes, plums, apricots), chilies, and lime juice. I got back home and task # 1 was to find Chamoy!! I needn't have worried. Amazon had it and I got it effortlessly….and now it features in many things…more about that at a later date…..But in this recipe, my Dahi Vadas got some Chamoy love!!
With the extra avocados and the dahi vadas on hand, I turned it into a chaat! See below in Recipe Notes for ensuring NO WASTE policy!! 🙂  If not chaat, then guacamole is always an option!
Serve these as an appetizer, a side, or just eat it as the main course with a healthy salad with apricots/peaches or strawberries, golden beets, or rainbow carrots!!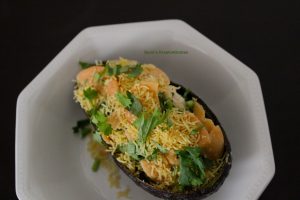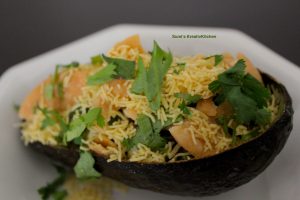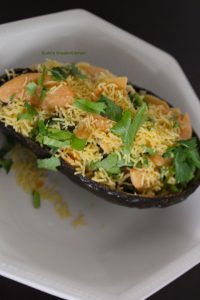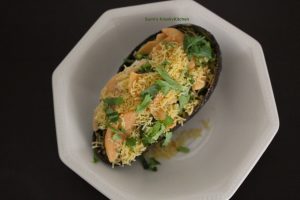 DAHI VADAS GO MEXICAN!
Yield:

20 vadas

Prep Time:

3 hours

Cook Time:

1 hour
Ingredients
1 cup Whole Urad Dal
2 avocados
2 dried Red Chilies
1/2 tsp Asafoetida (Hing)
2 cups Low fat Yogurt
1/2 cup Cilantro
1/4 cup Fresh Mint
3 green chilies
10 Peanuts
1/2 freshly squeezed Lemon Juice
Chamoy Sauce
Oil for Frying
Instructions
Soak 1 cup of Whole Urad Dal in 3 cups of water for 2 hours. Drain the dal, add to the blender, add 2 dried red chilies, 1/2 tsp of asafoetida and salt to taste. Grind it to a fine paste with very little water* and set aside in a big bowl.

Cut up 2 avocados into halves, remove the pit and scoop out the flesh. Add to a big bowl. Add a generous amount of lemon juice to it to prevent it from turning brown. Keep the avocados covered. Blend these avocados to a smooth paste and add to the urad dal batter. Use a whisk to whip up the batter well. Keep the bowl covered.
Important: Do not discard the skins. Rub some lime juice on the insides and keep them aside.

Heat up oil in a wok. Use your fingers to drop small balls of the dough into the oil and fry them on medium heat till they turn golden brown**

In another big bowl add a dollop of yogurt and 5 cups of lukewarm water. Whisk to mix together

Lift the fried vadas from the oil slowly and drop them into the lukewarm water. Let them stay in there for 5-6 minutes. Then lift them out with a slotted spoon and gently squeeze the water out and place them on a platter. Repeat till all the vadas are fried and soaked and squeezed

Whisk 2 cups of yogurt and pour it over the squeezed vadas platter. Refrigerate the platter

Get the green chutney ready: Grind 1/2 cup of cilantro + 1/4 of fresh mint + 10 peanuts + 3 green chilies + 2 tbsp of freshly squeezed lemon juice + salt to taste to a fine paste. Add just enough water to make it a thick pouring consistency.

To serve:
a. Place the empty Avocado shells on a small cup/plate.
b. Spoon a Dahi Vada gently on to the shell
c. Garnish with Chamoy and Green Chutney! Your Upcycled Avocado- Dahi Vada is ready!! Behold the beauty!! Or eat it!! Your choice....
Notes
* I recommend grinding it in small batches to avoid making the batter too watery.
** Do not overcrowd the oil. Fry on medium heat only and be patient for the vadas to fry up. In between batches, wash and wet your hands to make smooth vadas.
To make Dahi Bhalla Avocado Chaat:
1. Scoop out the avocado flesh and chop into fine pieces, add lemon juice to avoid discoloration and keep it covered. (Again, Save the Shells!)
2. Take some Dahi vadas in a bowl and chop them roughly with a spoon. Add the chopped avocados to it. Mix well.
3. Add generous amounts of Chamoy and Green Chutney. Mix well.
4. Scoop the vada-avocado mixture on to the shell.
5. Top with Sev and Papdis.
6. Garnish with finely chopped cilantro.
Your Upcycled Dahi Bhalla-Avocado Chaat is Ready!!