Those plump strawberries take centerstage in this fresh salad with unexpected twists!! I have nothing more to say….Read on, and just make and see for yourself!!  This is distinct from the peach and apricots salad that you may have seen earlier, and oh so flavorful!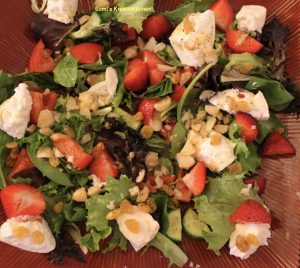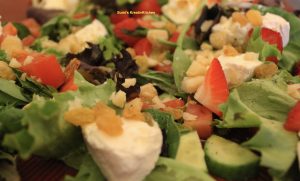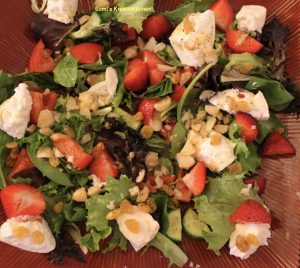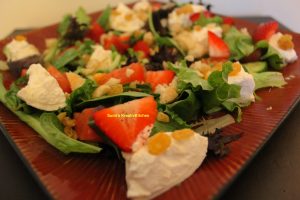 STRAWBERRIES & MOZZARELLA SALAD
Yield:

4

Prep Time:

20 minutes
Ingredients
20 Strawberries
8 oz mixed Salad Greens
6 oz Fresh Buffala Mozzarella
2 medium Tomatoes
Handful of Chopped Macadamia Nuts
Handful of Golden Raisins
2 tbsp of Freshly Squeezed Lime Juice
1 tsp of Cocoa Powder
1/2 tsp of Tandoori Masala
4 tbsp of EVOO
Instructions
Wash, hull and halve the strawberries and keep aside

Cut up the Tomatoes and Buffala Mozzarella into chunks

On a serving platter, add the mixed salad greens as a bed for the strawberries and mozzarella and tomatoes. Add a handful of chopped macadamia nuts and golden raisins all over

Make the dressing:
In a small bowl add 1 tsp of Cocoa powder + 1/2 tsp of Tandoori Masala + 2 tbsp of freshly squeezed Lime Juice + 4 tbsp of EVOO + Salt to taste. Whisk well and drizzle lightly on the salad (do not overdress it!!). Sprinkle some freshly ground black pepper on the salad and get ready to attack!!