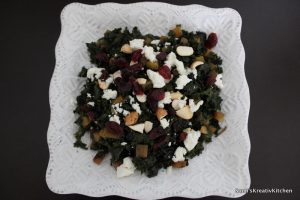 While the heat can be oppressive in the summers in NYC, it is also a time that produce is bountiful and beautiful! Corn, Squash, Beets and Tomatoes of all hues, Rainbow carrots, Cucumbers, Fresh Kale, Arugula……all truly irresistible!! And this is a time for some minimalist cooking for me! To taste the freshness of the vegetables and eat fresh!
I am now going to share some of my summery recipes:  Two beet salads and two other fruity gems; Apricot and Peaches with Burrata and Juicy Strawberries with Burrata and Raisins!! All feel-good recipes and mouthwateringly delicious!!
Today, I will showcase Beets. One salad features Golden Beets and the other the familiar Red Beets with Rainbow Carrots.  Both super simple but yummy salads!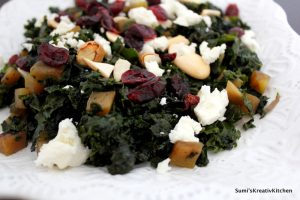 GOLDEN BEETS SALAD WITH KALE & GOATCHEESE
Yield:

4

Prep Time:

20 minutes

Cook Time:

40 minutes
Ingredients
4 Golden Beets
1 lb Fresh Kale
4 Cloves Garlic
5 oz Goat Cheese
5 oz Marcona Almonds
1 tbsp of Red Chili flakes
Handful of dried sweetened Cranberries
2 tbsp Freshly squeezed Lemon Juice
Instructions
Preheat the oven to 450 degrees

Trim, wash and scrub the beets well. Place them on a baking sheet and drizzle with olive oil. Place in the baking sheet in the oven in the top rack. Roast the beets for 15-20 minutes. When the beets cool down, slip off the skin. Dice the beets, add a pinch of salt and keep aside.

Trim, wash, and chop the kale roughly

Mince 4 garlic cloves. Heat 3 tbsp of olive oil in a pan. Reduce the heat, add the garlic and 1 tbsp of red chili flakes and saute lightly. Add the chopped kale, salt to taste, and mix well. Cover the pan for about 3-4 minutes till the greens wilt but don't get brown.

To Serve: Place the wilted kale on the plate, add the beets, and crumble some goat cheese, a few dried cranberries and some chopped marcona almonds. Drizzle some oil oil and lemon juice over the top and serve immediately with some crusty bread as an accompaniment!