When you crave pastas but want to stay the course to eat healthy, try this easy one pot recipe!!
INGREDIENTS
Zucchini spirals/pasta, Garlic, Red onions, Cauliflower florets, Bell peppers, Pasta sauce, Dried Italian herb mix, Fresh Mozzarella cheese*, Basil
RECIPE
In a pot of hot  boiling water, blanch 2 cups of zucchini pasta for 2 minutes. Quickly drain and set aside.*
Slice 1 red onion, 1 red bell pepper and 1 orange bell pepper. Keep aside.
Cut up cauliflower into small florets.
In a large wok, heat 3 tbsp of olive oil.
Add sliced onion and saute lightly and add 2 cloves of garlic finely minced.
Add the cauliflower and sliced bell peppers. Saute till the vegetables get slightly soft but not wilted.
Add 1.5 cups of pasta sauce of your choice, fresh ground black pepper and salt to taste. Mix everything well.
Add the  blanched zucchini pasta to the sauce and cover and cook for a couple of minutes.
Uncover and turn off the heat.
Add 1 tbsp of dried mixed Italian herbs and mix well.
Serve the pasta in individual bowls topped with cubed fresh mozzarella cheese and fresh basil.
Note to the chef:
* I happen to like my zucchini pasta and veggies really crunchy and hence it may seem like I am under cooking the ingredients. But cooking it a bit more does not mess up the taste! 🙂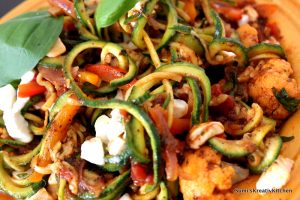 Notes to chef:
*Substitute vegan cheese if you wish