It is rather hot here in NYC….and I wanted to eat something that was quick to put together without spending much time in the kitchen and yet light! Summer rolls tick all these boxes for sure! So, I am nothing if not a rule-breaker! So, here comes the Vietnamese summer rolls desified in two distinct ways!
First version: with Vermicelli! A simple quick vermicelli upma which is then rolled into the rice wrapper with fresh vegetables.
Second version: with Sabudana/Tapioca pearls!: I am not sure how that happened, but I have just one pic of this beauty 🙁 But I promise you it is worth making! Recall the sabudana khichdi that I had posted earlier? Just make that (or if you have left overs, you know what to do!!). I took a portion of sabudana khichdi and added green food coloring to make it pop and then mixed it with the rest of the khichdi to get the green and white mix.
Exciting right?? Read on! and then, Cook and See!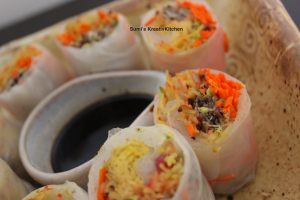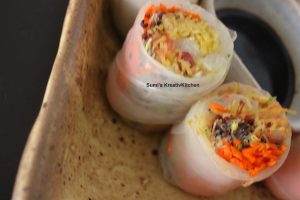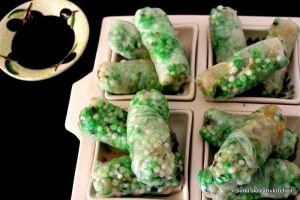 Summer Rolls with Vermicelli & Tapioca
Yield:

12 rolls

Prep Time:

20 mins

Cook Time:

15 mins
Ingredients
Readymade rice paper wrappers
1/2 cup dry Vermicelli
1 small Red Onion
1/2 tsp Cumin seeds
1/2 tsp Urad dal (optional)
1/2 tsp Chana dal (optional)
1 small Green Chili
1 Medium Carrot
1/2 Cup Broccoli Sprouts or Any Fresh Greens
1/4 Cup Cilantro
4 tbsp Freshly squeezed Lemon Juice
Dark Soy sauce--for serving
Instructions
Peel and grate one medium sized carrot and set aside

Finely chop one small green chili, one medium sized red onion and 1/4 cup of cilantro and set aside separately

Boil 3 cups of water. Add a generous pinch of salt to the boiling water and 3 tbsp of cooking oil. Add the vermicelli to the water and cover for 2 minutes. Uncover for a minute and drain the water completely and wash off with cold water

In a wok, heat 1 tbsp of sesame oil (or any cooking oil) and add 1/2 tsp of cumin seeds. When they splutter, add 1/2 tsp each of urad dal and chana dal. Saute till they turn a light brown. Quickly add the finely chopped green chili and onion. Reduce the heat and saute till the onion turns translucent (do not allow it to become brown!). Turn off the heat and add the drained vermicelli to the mixture and mix well. Add a tbsp of freshly squeezed lemon juice and mix well. Keep aside and allow it to cool.

Assembling the Summer Roll:

a. Get the assembly line ready: Rice roll wrappers, a large rimmed plate with water, a dry working surface (a chopping board), the vermicelli upma, grated carrot, broccoli sprouts, chopped cilantro, freshly squeezed lemon juice, a serving plate lightly oiled (to prevent the rolls from sticking).
b. Take out the rice roll wrapper and gently lower it into the water and slowly rub it all over to get it softened. (It will get quite soft and tend to tear if you overdo the soaking)
c. Place the wrapper on a dry chopping board
d. Take some of the Vermicelli upma and place it at the lower end of the wrapper diametrically across leaving enough margin on either side
e. Take the grated carrot, broccoli spouts, cilantro and do the same
f. Drizzle some lemon juice on the whole stuffing
g. Roll the bottom and then fold in both sides and keep rolling the wrapper tightly to make a longish cigar
h. Take a sharp serrated knife and cut the roll into two (or eat them whole!!)
i. Arrange the rolls on the serving dish cut side up

Serve with dark soy sauce!
Notes
For the Sabudana rolls: Follow the same procedure in terms of the rolling process after you make the sabudana khichdi. Easy peasy!!