Beat the heat with this South Indian version of the popular Dahi Vada! Thayir Vadai as it is called in Tamizh is a significant departure from the North Indian version that has chutneys drizzled over it. I had posted the recipe for that some time back. You can find it here.
Today, I had family visiting and was making a South Indian brunch that included this Thayir Vadai. I was in a bit of rush, so I used some ready vadas today, but making the vadais is really not hard if one plans ahead.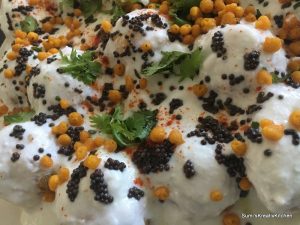 Here is the recipe:
INGREDIENTS
Urad dal (black lentil without the skin), Red chilies, Hing, Curry leaves, Oil, Buttermilk, Yogurt, Freshly grated coconut, Green chilies, Mustard seeds, Red chili powder, Fresh cilantro, Readymade boondi*.
RECIPE
Soak 1/2 cup of urad dal** (or 1 cup. Please see Notes for Chef below) in 4 cups of water for 3 hours.
Grind 5 tbsp of freshly grated coconut and 2 green chilies with some water to make a thickish paste.
Whisk 2 cups of yogurt with a little water to get a dropping consistency. Add the ground coconut-chili paste + salt to taste and mix well. Refrigerate for 2 hours especially if your yogurt is not cold enough.
Drain off the water from the urad dal and blend with very little water to a thick, fluffy, and smooth batter along with 2 red chilies.
Take out the batter into a large bowl and add salt to taste and 1/4 tsp of hing.
Cut up 4-5 curry leaves into small pieces and add to the batter. Mix well.
In a big bowl, add 1/2 cup of buttermilk. To this,  add 4 cups of hot water. Mix well and keep aside.
Heat up oil in a wok for frying the vadais.
Reduce the heat to medium high and drop dollops of batter into the oil. Fry till they get golden brown all over and take them out on a paper towel.
When the vadais are hot, just drop them into the buttermilk-water mix.
After 3-4 minutes, take them out with a slotted spoon and place them on a platter.
Repeat for the rest of the vadais.
After all the vadais have been fried and dunked into the buttermilk, gently pick up each vadai and give it a light squeeze to drain off any excess water.
When the yogurt mix is well chilled, pour some on the base of a serving platter.
Place the vadais on the yogurt.
Now pour the yogurt on the vadais till they are covered fully. Refrigerate for 2 hours.
Heat a little oil, and add 3 tbsp of mustard seeds and allow the to splutter.
Just before serving, drizzle the mustard seeds all over the vadais.
Sprinkle 1/4 tsp of red chili powder all over.
Generously sprinkle fresh, crisp boondi all over.
Garnish with fresh chopped cilantro and serve immediately!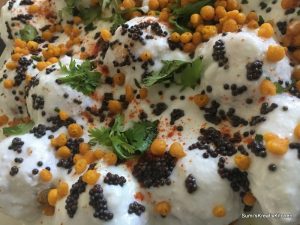 Notes to the chef:
*For those who are unfamiliar, 'boondis' are fried mini chickpea flour (gram flour/besan) balls that are homemade by enthusiastic cooks! They make for an addictive savory snack when the flour is mixed with spices and for a decadent dessert called 'boondi laddoos!' The savory boondis are available in plenty at the Indian grocery stores.
** My good friend Shoba asked me, so I wanted to point this out for those making this for the first time. If you are using a blender (especially the non-Indian kind), then you may want to soak 1 cup of urad dal. This is because blenders do not do a good job of grinding the dal to a smooth paste. If the batter is grainy, then the vadas/vadais do not taste good at all! If you have an Indian mixer/grinder, then you may be able to grind 1/2 cup dal to a fluffy batter. I always use my wet grinder to grind for vadas/vadais, so after a good soak, 1/2 cup dal, yields a really nice fluffy, smooth batter  after grinding it for about 30 minutes.