Original Recipe Courtesy: Soma Majumdar Sinha. (subsequently tweaked:))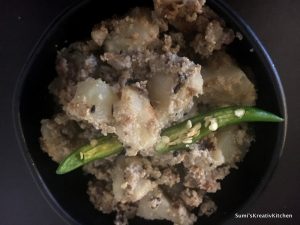 I had posted a recipe for another version of this dish earlier with paneer. You can find it here.This time, I decided to make the simpler and humbler version of the classic 'posto' which is simply ground poppy seeds! That these unassuming seeds can impart so much flavor is just amazing! So, without further ado, here's the recipe:
INGREDIENTS
Potatoes, Poppy seeds,  Mustard oil, Canola oil, Black cumin, Onions, Green chilies, Sugar.
RECIPE
Soak 4 tbsp of poppy seeds in warm water in a small bowl for one hour. Add just enough water to cover the poppy seeds, not too much.
Grind up the poppy seeds with 1 small green chili to a fine paste with a little water. Ensure that the paste is thick and not runny. Hence, use water judiciously.
Pressure cook 3 large Yukon Gold potatoes till they are firm but not mushy.
Peel the potatoes and cut them into 1″ cubes. Keep aside.
Finely chop 1 small red onion.
Slit 2 green chilies vertically.
Heat 1 tbsp of mustard oil + 1 tbsp of canola oil.
Add 1 tbsp of Kali Jeera (black cumin seeds) and lightly saute for 30 seconds.
Add the green chilies and  finely chopped onions, reduce the heat to medium and saute till the onions get translucent but not brown.
Add the potatoes and gently mix with the onions.
Add the 'posto'/ground poppy seed paste to the pan.
With the help of a flat spatula, gently fold the posto into the onions/potato mixture.
Add salt to taste and 1 tsp of sugar.
Sprinkle a little bit of water, cover and cook for 4-5 minutes, turning the potatoes in-between.
Garnish with slit green chilies and serve immediately with steaming hot rice and chholar dal!