Original Recipe Courtesy: Soma Majumdar Sinha.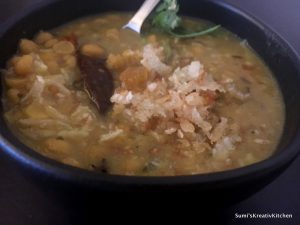 It is simply mind  boggling the ways in which Indian cooks transform simple lentils into the most comforting of curries and also elevate it to a gourmet dish! Here is Chholar Dal from West Bengal, one of the simplest and tastiest of dals that you'll ever eat! Give it a try! Again, thanks to my talented friend Soma's recipe, this has become a common dish on my dining table.
INGREDIENTS
Chana dal (split Bengal gram), Turmeric powder, Ghee, Dried red chilies, Bay leaf, Cloves, Cinnamon, Green cardamom, Asafoetida (Hing), Golden raisins, Fresh coconut pieces/freshly grated coconut.
RECIPE
Add 1 cup of chana dal into your pressure cooker/InstantPot.
Add 1 2 tsp of turmeric powder and salt to taste.
Pressure cook the chana dal till it is soft but not mushy. You should be able to see and bite into the dal.
Heat 2 tbsp of ghee in a pan.
Add 1 stick of cinnamon + 4 cloves, +1 bay leaf, + 2 red chilies (each broken into 2) + 1 tsp of Hing.
Saute lightly.
Add the cooked dal to the tempering and add 1/2 cup of water.
Allow it to simmer for about 5-6 minutes and becomes thick.
Heat 1 tsp of ghee.
Add 2 tbsp of fresh coconut pieces (cut up small) or 2 tbsp of freshly grated coconut. Reduce heat to low and saute continuously.
Add 1 tbsp of golden raisins and continue to saute. The raisins will plump up.
Add half the coconut and raisins to the dal and mix well.
Before serving, garnish with the other half of the coconut and raisins and finely chopped cilantro.
Pour hot Chholar Dal over steaming hot rice and enjoy!!