It is the time for another Fall squash/pumpkin….the white variety. Commonly known as Safed Bhopla, Pooshni, Kumblanga, Ash gourd, Winter Melon….the vegetable that the famous 'Agra ka petha' is made of in North India! Here is a very simple yogurt curry made in TamilNadu called 'Mor Kootu' (Dahi kadi). Note that this is different from the Mor Kozhambu that I have posted earlier.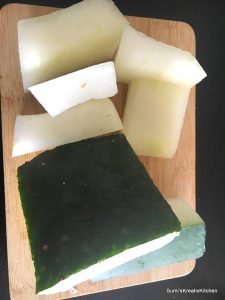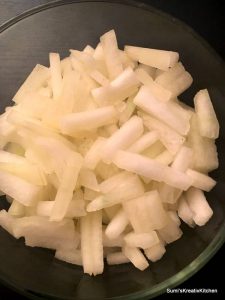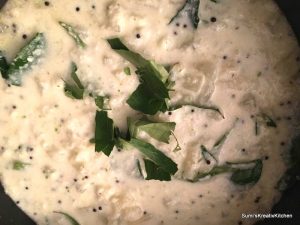 INGREDIENTS
White pumpkin, Tangy yogurt, Green chilies, Coconut oil, Mustard seeds, Curry leaves.
RECIPE
Cut a whole pumpkin into half.
Peel the pumpkin and slice the pumpkin into 1″ pieces. Then cut them up into long, thin pieces.
Wash thoroughly and keep it aside.
Add 2 cups of tangy yogurt + 1 cup of freshly grated coconut + 6 green chilies to the blender and grind to a coarse paste.
Heat 1/2 cup of water in a pan and add the cut pumpkin, add salt to taste.
Cover and cook till the pumpkin till it gets soft.
Add the ground paste to the pumpkin and mix gently taking care to not break the pumpkin.
Add a bit of water and bring it to a light boil.
Heat 3 tbsp of coconut oil and 1 tbsp of mustard seeds. Allow them to splutter and pour it on the hot yogurt curry.
Tear up 7-8 curry leaves and mix well.
Pour hot Mor Kootu on rice, millet, quinoa or just eat it alone with a salad!! 🙂 Yes, it's that good!