Usually, this curry is served with Pau/bread and eaten often as a street food/snack. However, in continuing with my theme of 'craving Maharashtrian food' I ignored the requirement for pau and just ate it with Rotis and Rice! It was great and I did not miss pau for a single second! 🙂
INGREDIENTS
Sprouts (of any kind), Mustard seeds, Cumin seeds, Green chilies, Ginger-Garlic paste, Onions, Tomatoes, Red chili powder, Turmeric powder, Hing, Goda Masala, Sugar, Garam Masala, Coriander Cumin powder, Potatoes, Farsaan, Spiced peanuts, Cilantro.
RECIPE
Boil 1 large potato, peel, cube and keep aside.
Heat 2 tbsp of oil.
Add 1 tbsp each of mustard seeds and cumin seeds and allow them to splutter.
Add 2 green chilies slit lengthwise and 1 medium onion finely chopped.
Saute till the onion turns translucent.
Add 1/2 tsp of ginger-garlic paste and saute well till the raw smell subsides.
Add 2 finely chopped tomatoes and saute the mixture.
Cover and cook for 2-3 minutes till the tomatoes get really mushy.
Add 1/2 tsp of turmeric powder + 1.5 tbsp of red chili powder + 3/4 tsp of hing + 1.5 tbsp of Goda masala + 1 tbsp of coriander cumin powder + 1/2 tsp of Garam masala + Salt to taste.  Mix everything well.
Add 1 cup of sprouts (mung bean, chick pea, brown chick peas, black eyed peas, or any other kind) to the pan.
Add 2 cups of water and 1 tsp of sugar.
Add the cubed potatoes.
Mix everything well and allow to cook on medium heat for about 10 minutes. The sprouts should be cooked well but remain al dente.
The consistency of the Misal should be thin but not runny. If you find it too thin, allow to simmer for an additional 2-3 minutes.
Turn off the heat and allow the misal to rest for about 8 minutes.
Serving:  Ladle the Misal into a small bowl. Add any kind of farsaan (fried snacks/sev etc that you may have on hand). Top with finely chopped onion, masala peanuts, and finely chopped cilantro. Serve immediately with pau/rice!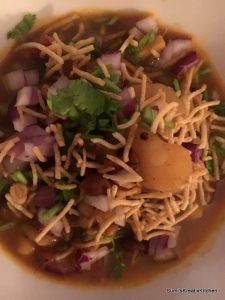 Here is a picture of Misal that I made yet another day for a party with authentic garnishes and with the Mumbai Pau in action!