Recipe Courtesy: Madhuri Purandhare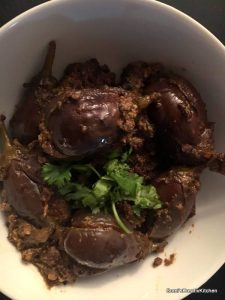 This is the Queen of Eggplant dishes in Maharashtra! The stuffed baby brinjals with the unique flavors typical to this state is guaranteed to please the established critic in you! And if you are an eggplant hater…well, then I have nothing to say to you unfortunately. Other than the fact that you are truly missing one of the best things nature has to offer! I, for one, simply LOVE this vegetable in all forms of preparations, both in Indian and non-Indian cuisines…..yes, it is a deep love for eggplant that I have!
So, when I wanted to make this again after a long time, I asked one of my dearest friends Madhuri for her recipe and followed it dutifully! I just added sesame seeds because I have eaten Bharli Vaangi with it earlier and love the flavor of it.
So, here is the recipe for my version of Bharli Vaangi! Which I served with a quick and spicy Misal and Kaakdi Koshimbir!
INGREDIENTS
Baby eggplants, Onion, Skinless peanuts, White sesame seeds, Freshly grated coconut,  Tamarind pulp, Jaggery, Goda Masala, Red chili powder, Kashmiri red chili powder, Hing,  Fresh coriander, Mustard Seeds, Cumin seeds.
RECIPE
Masala for stuffing:
a. Roast 1/4 cup of skinless peanuts + 2 tbsp of white sesame seeds till they are golden brown. Allow to cool slightly.
b. Add 1/2 cup of freshly grated coconut + peanuts + sesame seeds to a blender and grind to a coarse mixture. Transfer to a big bowl.
c. Add 4 tbsp of very finely chopped onions to the bowl.
d. Add 3 tbsp of tamarind pulp + 1 tbsp of jaggery + 2 tbsp of Goda Masala + 1.5 tbsp of red chili powder + 1 tsp of hing + salt to taste. Add 1/2 cup of freshly chopped coriander leaves. Mix everything well with a spoon and set aside.
2. Wash 20 baby eggplants and place them in a big bowl of water.
3. Trim the stem from each eggplant but do not cut it off fully.
4. With a small sharp knife, slit each eggplant from the top to the stem taking care to not cut it fully. Make another slit 90 degrees from the first one. Return each slit eggplant to the water to prevent discoloration.
5. Using a spoon or your clean fingers, pry open each eggplant along the slits gently and stuff it with the masala. Do not discard the leftover masala.
6. Finely chop one small onion.
7. Heat 1/4 cup of oil in a large flat bottomed skillet.
8. Add 2 tbsp each of mustard seeds and cumin seeds and allow to splutter.
9. Add the finely chopped onion and saute lightly on medium flame till it becomes translucent and fragrant.
10. Add 1 tbsp of Kashmiri red chili powder, and 1/2 tsp of hing and saute for a few seconds and add the remaining masala to the pan. Lightly saute on medium heat for about 2-3 minutes till the masala and the onions all blend together and add in the eggplants slowly. Mix everything with a flat spatula.
11. Add 3/4 cup of water and cover the skillet and allow the eggplants to cook for about 12 minutes.  At this point, you should see the oil separating and floating on top.
12. Uncover the pan, gently mix everything with a flat spatula and allow to simmer for another 3 minutes.
13. Pierce one eggplant with a knife to make sure it is cooked through. In the unlikely event that the eggplant  has not cooked,  add a tad more water and allow to cook for 3-4 minutes more.
14. Turn off the heat and garnish with freshly chopped coriander leaves and serve immediately with bhakris/phulkas/chapatis!