A disclaimer at the beginning: This dish is not for the faint of heart…it involves the use of butter and cream and frying!! So, definitely not figure friendly! For those of you who are watching your diet for multiple reasons, this may unfortunately not be for you. But for the rest of us, here is a dish that is worth the labor! In my opinion, what's not to like when potatoes-cheese dumplings are swimming in a creamy nutty sauce??!! And when it is topped with the shimmering red pearls of pomegranate seeds with their sweet/tart flavors to offset the creaminess of the gravy, it is a party in your mouth for sure!!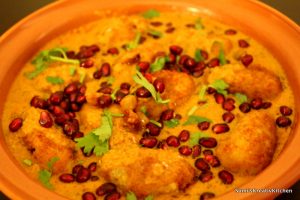 INGREDIENTS
For the dumplings (Koftas):
Potatoes, Paneer, Corn flour, Sliced almonds, Golden raisins, Turmeric powder, Kashmiri red chili powder, Tandoori masala, Clove powder, Asafoetida (Hing), Coriander powder, Ginger powder, Fresh lemon juice.
For the gravy: 
Cashewnuts, Onions, Tomatoes, Garlic, Cinnamon sticks, Cloves, Fennel seeds, Butter, Cumin seeds, Bay leaf, Turmeric powder, Red chili powder, Cumin powder, Coriander powder, Garam masala, Fresh cream.
RECIPE
Koftas: 
Pressure cook 3 extra large potatoes. Drain off all the water, dab with a towel to ensure that there no moisture. Peel, mash and transfer to a bowl.
Grate 1 cup of  paneer into the potatoes.
Add 4 tbsp of corn flour + 2 tbsp of sliced almonds + 3 tbsp of golden raisins. Mix well.
To the mixture, add 1 tsp of Turmeric powder + 2 tsp of Kashmiri red chili powder + 1/2 tsp of Tandoori masala + 1/2 tsp of Clove powder + 1/2 tsp of Hing + 1.5 tbsp of Coriander powder + 1 tsp of Ginger powder + the juice of one lemon + salt to taste.
Fold all the spices into the potatoes-paneer mixture and bring it all together into a firm dough like ball.
Divide the mixture into 2″ balls. Then, with both your hands take each ball and roll them into oblong shaped koftas. Place them on a large plate, ensuring that they don't stick to each other and refrigerate them for 2 hours.
Heat oil in a wok and fry the koftas* on medium heat till they get golden brown all over.
After you are done frying the koftas, fry 8-10 golden raisins as well and  keep them aside.
Gravy: 
Soak 1/4 cup of cashewnuts in warm water for 2 hours.
Chop 1 large onion roughly.
Chop 4 medium sized tomatoes roughly.
Peel 2 garlic pods and keep aside.
Heat 2 tbsp of oil.
Add 2 small cinnamon sticks + 3 cloves + 2 tsp of fennel seeds and saute lightly on medium heat.
Add the onions and the garlic and a pinch of salt. Saute till the onions turn light pink. Take care to not brown them.
Add the tomatoes and saute.
To the mixture, add salt to taste + 1 tsp of Turmeric powder + 2.5 tsp of Red chili powder + 2 tbsp of Cumin powder + 2 tbsp of Coriander powder. Mix everything together and cook down the mixture till the tomatoes get all mushy and oil starts to leave the sides of the pan. Turn off the heat, cool the mixture down.
Blend the soaked cashewnuts and the cooked mixture to a smooth paste.
Heat 1 tbsp of oil and a small chunk of butter in the same pan that was used earlier.
Add 2 tsp of Cumin seeds and when they crackle, add 4 small pieces of cinnamon sticks and 2 bay leaves. Saute lightly and reduce the heat all the way down!
Gently add the blended mixture and  to the pan and immediately partially close the lid.**
Add 2/3 cup light cream and 1/3 cup of water to the gravy and mix everything well.
Allow the gravy to simmer for about 5-6 minutes on low heat when it will start to thicken slightly.
Add 2 tbsp of Garam masala and mix it in, and allow to simmer for a couple more minutes.
Serving:
Take a serving platter with a rim or a flattish bowl and ladle half of the gravy to the base.
Arrange the koftas on the gravy.
Then pour the gravy on top of the koftas lightly.***
Garnish with finely chopped cilantro and fresh pomegranate seeds**** and the fried raisins.
Tips for the chef:
* Many dip the koftas in a slurry of flour  & water before frying them or roll them in flour prior to frying, but I  prefer the koftas to soak in the juices directly and not have the flour barrier, but you can choose any route, of course!
** This is critical. Please ensure that the heat is at its lowest setting before you add the blended mixture. It does splash a fair bit so stand back and have the lid handy so that you close it  partially and allow it to cook without splashing all over your stove top and kitchen counter! Also, do not close it fully, the gravy will boil over and make a mess!
*** If you dip the koftas in the flour slurry before frying, it will yield a kofta with a thickish cover. In that case, you can  generous pour the gravy over the koftas. But since I did not do that, I preferred to pour a little bit of gravy over each kofta so as to not drown them in the sauce.
**** Pomegranate seeds are entirely optional. Again, I was going for visual appeal and the crunch and sweet/tart flavors of the fruit to balance the heaviness of the cream.