Sweet corn is one of summer's finest gifts! Here is another oh-so-summer salads with this bounty! I believe there is truly nothing like fresh corn off the cob! Roasting it lightly with just a dash of salt, pepper and lemon! It can be a meal for me! But I did a little more to make it a wholesome salad for dinner. It takes 10 minutes to make and the taste rewards are disproportionately high! Try this and I promise you, you are going to be making this again and again!!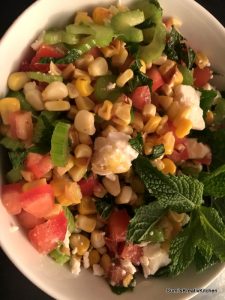 INGREDIENTS
Fresh corn, Crumbled feta cheese, Fresh mint, Tomatoes, Celery, Fresh lemon juice.
RECIPE
Buy 2 medium-size fresh corns with the husks. Take the husks out, peel off all the membranes and pull out the corn on the cob. Take one of them, and cut off both ends and hold it vertically on a large chopping board. With a sharp knife, start slicing the cob top to bottom. The kernels will start falling down on the board! Just keep turning the cob as you slice and all the beautiful kernels will fall to the board. Yes, it will be a little messy and hence ensure that your working surface is clean and you have a big chopping board so the picking up is easier 🙂 I promise you, many will find their way to your mouth!! Repeat with cob #2.
In a skillet heat up 1 tsp of butter/olive oil. Add the corn kernels to the skillet and mix them in the fat and spread them out in a single layer. Reduce the heat to medium and let them be for at least 4-5 minutes*. Turn off the heat and allow them to cool. Transfer to a large bowl. Cool corn completely.
Take 3 medium sized red ripe tomatoes and cut them in half. With a spoon scoop out the insides (save and use these for curries/soups).
Dice the tomatoes into small squares and add them to the cooled corn.
Wash one celery thoroughly and slice them thinly and add to the bowl.
Add 4 tbsp of finely chopped fresh mint to the bowl.
Cover and refrigerate for 2 hours.
Before serving, add fresh crumbled feta cheese, a sprinkling of salt**, and 2 tbsp of fresh lemon juice.
Mix well, garnish with mint sprigs and serve immediately.
Notes to the chef:
* You can roast till more till it gets charred all over, it is a personal choice!
** Feta cheese is fairly salty. So stay vigilant with the salt that you add.