Here is a way to get away from Rajma and Paneer in the usual predictable ways! Make an easy pulao! With a little unusual twist 🙂 of course!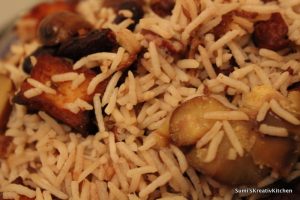 INGREDIENTS
Rajma (red kidney beans), Paneer, Basmati rice, Cumin Seeds, Bay leaves, Cinnamon sticks, Cloves, Yogurt, cooked chestnuts.
RECIPE
Soak 1/4 cup of Rajma overnight in 3 cups of water.
Cook the rajma on stove top or in a pressure cooker till they are cooked through and firm but not mushy. Drain off all the water.
Cut paneer into cubes (3/4 cup) and fry them golden brown till they are crisp and set aside.
Wash 2 cups of basmati rice and drain off all the water.
Whisk 1/4 cup of yogurt, add 2 tbsp of water, mix well, and and set aside.
Slice cooked chestnuts (1/2 cup) into thin circles.
Take a broad bottom pan with a lid and heat 1 tbsp of oil and 1 tbsp of ghee.
Add 3 bay leaves, 4 cloves, and 2 half inch pieces of cinnamon.
Add half the chestnuts.
Saute for a minute and add the drained rice to the pan and saute for a couple of minutes.
Add the drained rajma and paneer and mix everything well.
Add salt to taste and 4 cups of water.
Line the lid of the pan with aluminum foil and tightly cover the pan.
Reduce the heat to medium and allow the rice to cook for 10 minutes.
After 10 minutes, uncover and pour the whisked yogurt all around the rice.
Replace the lid and allow the rice to cook through till the aroma permeates your kitchen!
Garnish with the remaining chestnuts.
Serve hot with a raita and/or a vegetable curry!