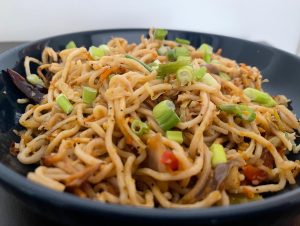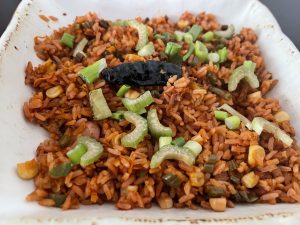 Whenever I am in India, the first two things I run out to eat are chaat and the Indian Chinese, in that order clearly! There is a lot of controversy (understandably) about the 'Indian Chinese' but that's for another time. For now, I will focus on the fact that I made both this weekend! Just to satisfy my cravings… hence are the Hakka Noodles and Schezwan Rice both loaded with veggies! I made both mild because we had friends over.. scroll below to see my plate of noodles drizzled with chili oil
#creativefusions
#indianfusion
#foodinNewYork
#IndianFusionFoods
For the Hakka Noodles, I followed Tarla Dalal's recipe: https://www.tarladalal.com/RecipeSearch.aspx?rec=1&term=Hakka+noodles
For the Schezwan rice, I followed this recipe given below. The one important tip that I will offer to all chefs is to plan ahead and prep all the veggies. This recipe comes together in under 10 minutes if you have the rice cooked and cooled. Be prepared to work in top speed in front of the fire without distractions!!!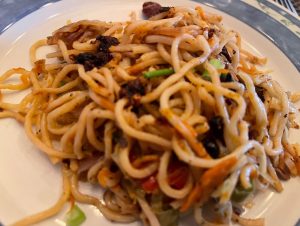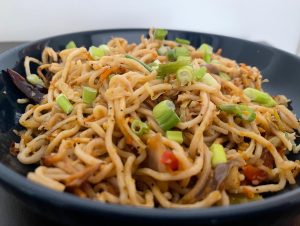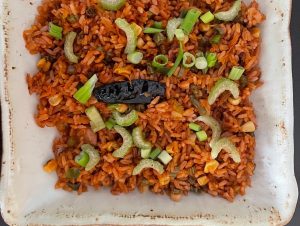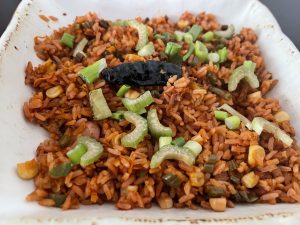 VEGETABLE SCHEZWAN RICE
Yield:

6 portions

Prep Time:

30 minutes

Cook Time:

45 minutes (including rice cooking and cooling time)
Ingredients
1.5 cups Short grained rice
1 cup finely shredded carrots
3/4 cup finely cut green beans
3/4 cup frozen corn (thawed)
1/2 cup spring onions (white parts)
1/2 cup spring onion greens
1/4 cup finely diced onions
4 tbsp of minced ginger
6 garlic cloves sliced
3 dried red chilies
4 tbsp store bought Schezwan sauce
1 tbsp tomato ketchup
2 tbsp black pepper powder
6 tbsp Sesame Oil
1.5 tbsp vinegar
2 tsp dark soy sauce
1/2 cup of finely sliced celery
Instructions
Cook the short grain rice as per instructions ( I used 1.5 cups rice + 3 cups water and cooked in the microwave for 7 minutes. Fluff it up with a fork and allow to cool completely*)

Heat 4 tbsp sesame oil in a wok/wide bottomed pan. Break 3 dried red chilies.

Add the ginger and chopped garlic and saute on high for about 45 seconds, do not allow it them to brown. Add the celery and white parts of the spring onion and saute for another 45 seconds.

Add the chopped veggies and saute for a few seconds

Add the schezwan sauce, ketchup, vinegar, black pepper powder, and half of the green parts of the spring onions. Mix well

Add the cooked and cooled rice (make sure that the grains are separate) to the wok and quickly mix everything together continuously so that the rice is coated with the sauce and vegetables and is heated through

Garnish with more sliced celery and the remaining green parts of the spring onion

Serve immediately!!
Notes
* You can make the rice the night before and separate out the grains and allow to cool on the kitchen counter overnight.