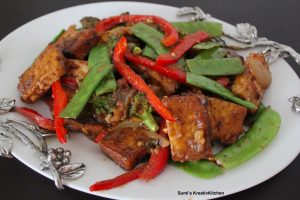 Tofu. I have noticed that folks either love it or hate it…very few are in-between. I belong in the former group of tofu lovers! I like it in many preparations both desi and non-desi and love its versatility. But I will also admit: I am not one of those that will substitute paneer for tofu!! Sacrilege in my view :-)! Guess I have some ways to go before I become vegan 🙁
So, back to this one: I always order spicy stir-fried tofu at Thai and Vietnamese restaurants….but let's be real. That's not happening anytime soon and with the winter setting in, even outdoor dining in NYC is not pleasant. So, decided to take matters into my own hands and make it. The thing about a lot of this kind of food is that it is simple and fast. You lay out the table, put out the salad, ensure that you have rice made and ready and then start this dish. It will be done before you know it! Cook and see!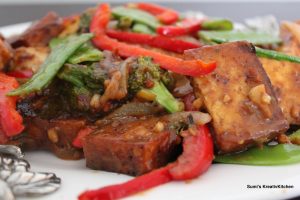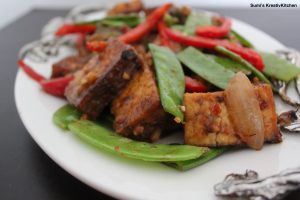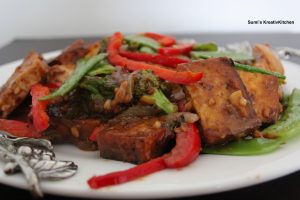 ASIAN STYLE STIRFRY TOFU
Yield:

4 servings

Prep Time:

20

Cook Time:

12 minutes
Ingredients
Extra-firm Tofu
1 small Red Bell Pepper
1/2 cup of Broccoli Florets
1/2 Red Onion
1/4 cup Sliced Celery
3 tbsp Crunchy Peanut Butter
1.5 tbsp Gochujang Sauce/ Sriracha sauce/ Maggi Hot and Sweet Sauce
3 tsp of Dark soy sauce.
3 tbsp fresh Lime Juice
1.5 tsp Red Chili Flakes
3 tbsp Sesame Oil
1 cup of snow peas
Instructions
Drain the tofu on a kitchen towel for 10 minutes (5 on either side). Use a paper towel to pat it dry on all sides. Cut it into 2" squares. Spread it out in a single layer on the kitchen towel.

De-seed and slice one small red bell pepper, trim 1 cup of snow peas.

Slice half a red onion (one if it is a small one).

Wash a celery stalk well, trim the edges and slice them to make 1/4 cup.

Wash a small head of broccoli and trim the stalk. Carefully, cut medium bite-sized florets to make 1/2 cup.

In a small bowl, add 3 tbsp of crunchy peanut butter + 1.5 tbsp of Gochujang (or any substitute) + 3 tsp of dark soy sauce + 3 tbsp of fresh lime juice + 1.5 tsp of red chili flakes. Whisk this well and keep aside.

Take a large flat bottomed pan and add 2 tbsp of oil all around the pan and use a brush to spread it out evenly. Heat up the oil on medium-high heat.

Arrange the tofu pieces in a single layer in the pan. Do not touch them...let them brown for about 3 minutes. Brush the top of the tofu with a little more oil and reduce the heat to low. Using a flat spatula, gently turn each piece over on to the other side. Turn up the heat Allow to brown for couple of minutes. Take the tofu out on to a plate. Sprinkle a little bit of salt and black pepper.

To the same pan, add 3 tbsp sesame oil and turn up the heat till it is smoking hot.

Add all of the veggies into the oil (stand back a little!!) and furiously toss with a spatula and add the snow peas. Add some salt and black pepper. Add tofu to the vegetables and quickly pour in the sauce. (At this point, holler for everyone to get to the dining table!!)

Gently mix everything taking care to not break the tofu.

Move swiftly to the dining table and spoon a portion of the stir fried vegetables and tofu on to everyone's plate. Sit down immediately and gobble!! You can eat it with rice or just as is with a crisp green salad! Yumm!!!