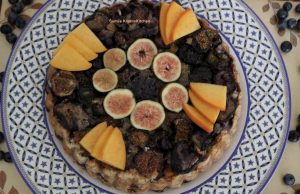 So, it was anniversary time. And we are both not hugely into desserts. But I wanted to make something just to celebrate the occasion…and was in the mood to do something that was different. Social media to the rescue of course! I am just always so thrilled to be around during these times when people so generously share their ideas/recipes with the world! And all for free! I have been following #vegetarianventures and she posted a muffin recently which looked absolutely yummy!!
I looked around in my pantry and the fridge and I had most of the ingredients. As you know, I have been obsessed with summer fruits and I adore peaches!! So I was excited at the prospect of making something with peaches 🙂 Blueberries are a staple in our home, so that was easy too. But, when I took out the peaches, I spotted these nice, large, firm figs sitting next to them. How could I leave them there?? Seemed a tad unfair. So out they came!!
Since when I have I followed a recipe blindly??!! I cannot start now! 🙂 So, while #vegetarianventures made her muffin with two fruits, Sumi would use three! Also, #vegetarianventures used egg in her recipe but given that I don't do eggs, I decided to skip that. I found it interesting that she used almond flour…and I was curious about using it in a muffin. I have been using almond flour to crisp up root vegetables off late, so was glad to do this new experiment! Next came the hunt for muffin cups….darn it! I had run out of  those….and was in no mood to step out to get them. Not much thought, but decided to go the route of a cake rather than muffins! Used a 9″ round tart pan instead…and believe you me, it worked just as well.
The ingredients and the measurements that I have given below are all credit to #vegetarianventures! I just increased the quantities of baking soda and baking powder because I was not using eggs. I also needed to use a little extra milk because the batter appeared to need it. The end result turned out beautiful to look at and yummy and light and not cloyingly sweet! Thank you #vegetarianventures!!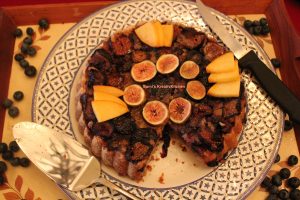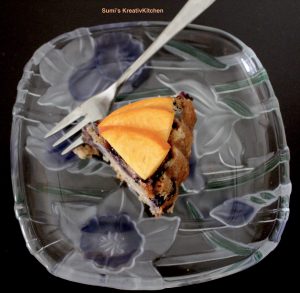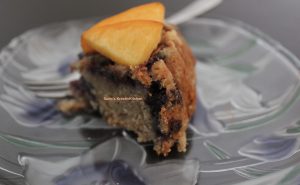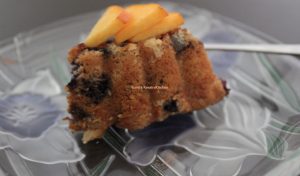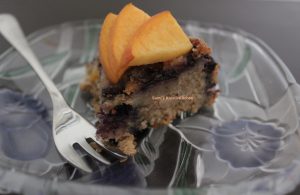 Since this turned out so well, and we were visiting family over the weekend, I decided to bake a second batch to share. But this time went with a bundt cake pan! No figs this time, but just peaches and blueberries….as you can see, that one looked pretty good too!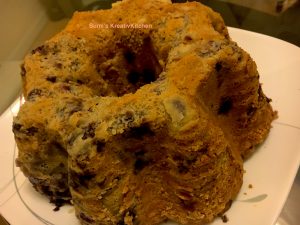 PEACH BLUEBERRY FIG CAKE
Yield:

12 servings

Prep Time:

20 minutes

Cook Time:

40 minutes
Ingredients
2 large firm Peaches
1 cup Blueberries
1.5 cups All purpose Flour + 1 tbsp
1/2 cup Bob's Red Mill Almond Flour
1 tsp baking soda
1 tbsp Baking powder
1/2 tsp Ground Cinnamon
1/2 tsp Salt
1/2 cup Brown Sugar
1/2 cup Sour Cream
1/2 cup Whole Milk
3 tbsp Turbinado Sugar
2 tbsp Sliced Almonds
8 Fresh Figs
6 tbsp Butter plus extra to butter the baking pan
Instructions
Do some initial prep:
a. Take 2 sticks of butter out of the fridge and let it sit on the counter for an hour before starting the process.
b. Pit one peach and cut it up into small pieces.
c. Wash and dry 1 cup of blueberries
d. Wash and dry the figs.

Preheat your oven to 375 degrees.

Use a stick of soft butter and rub it generously all over a 9" tart pan.

Take 1 tbsp of flour and sprinkle all over the butter. Tap the pan a few times to make sure that the

Slice the figs into thick circles and arrange them in a circular pattern at the bottom of the tart pan. Sprinkle 1 tbsp of Turbinado sugar on the figs. Keep aside.

Place a sieve on top of a big bowl. Add 1.5 cups of all purpose flour+1/2 cup of almond flour (I used Bob's Red Mill almond flour) + 1 tbsp baking powder+ 1 tsp of baking soda + 1/2 tsp of ground cinnamon+ 1/2 tsp of salt. Sieve all the dry ingredients together into the bowl. Keep aside.

Add 6 tbsp of softened butter + 1/2 cup of brown sugar to a big mixing bowl and use a hand mixer (or a stand mixer or a whisk if you want to get a workout :-)) to beat them on low speed till the butter turns color and with the sugar mixed in, becomes light and fluffy (about 2-3 minutes). I know...I know....it will look pretty inviting already! Restrain yourself...although you might want to take it to the living room and put a spoon into it and lick it clean and forget about the cake! As they say, patience has its rewards...so hold on!

In another bowl, whisk together 1/2 cup of sour cream + 1/2 cup of whole milk.

Add some of the wet ingredients to the butter/sugar mixture and mix together on low speed.

Add some of the dry mixture to the wet ingredients and beat it all again on the lowest setting on your mixer. Alternate between dry and wet ingredients till the batter is well mixed and all ingredients are incorporated.

Add the peaches and with a flat spatula fold them in gently.

Add the blueberries and fold them in gently.

Use a big spoon to transfer the batter on to the tart pan lined with figs.

Sprinkle 2 tbsp of Turbinado sugar and Sliced almonds on top.

Bake at 375 degrees for about 40 minutes or till a toothpick comes out clean.

Take it out and allow it to cool completely on a wire rack.

Run a knife around the edges of the tart pan to loosen the cake.

Take a big platter and cover the tart pan and invert it. Tap firmly on the tart pan a few times to ensure that the cake is completely out of the pan.

Lift off the pan and let out a yelp of joy!!

Slice the second peach into slices and decorate the top along with additional figs.

DIG IN!! And devour!!