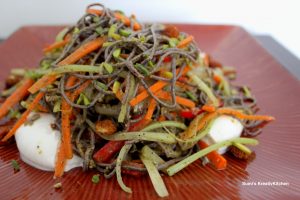 I have been hard pressed to find someone who dislikes pasta. As for me, it's like a family of huggers that never stop!! Give me elbow, bowtie, penne, rigatoni, farfalle, fusilli, ravioli, lasagna, spaghetti….I will take them all!! I guess it's really clear that I love pasta!! 🙂 But in these lockdown times, in the quest to eat healthy, I have been trying to steer clear of the pasta aisle. But a couple of weeks ago, I gave in and bravely walked down the dreaded aisle chiding myself to not pick up any packet! But then this black colored spaghetti sang to me! It did. I promise. So, never one to turn down a nice tune, I walked closer and the melody was beautiful…especially when it said ORGANIC BLACK BEAN GLUTEN FREE SPAGHETTI!! It would be a sacrilege to leave it on the shelf being the ardent music lover that I am, no???? So, it came home with me.
I let it rest in my pantry for a bit….but seriously, for how long???
So, out it came today! I had never tasted Black Bean flour spaghetti…so was really curious. I wanted to keep it light and not weigh it down with a heavy sauce. But knew that I needed to add some fresh ingredients to complement what I assumed would be the bean-taste. And like my father always said: "People eat with their eyes first….make sure the food looks inviting…" I proceeded to match colors with flavors…and voila. In 7 minutes, I had one of the tastiest and lightest pastas EVER!! I have added things like mozzarella for texture and complementary flavor and garnished with nuts/berries, but you can use your own imagination and take this dish in any direction! For vegans, needless to say, you can simply skip the cheese  and use vegan pesto.
But, don't take my word for it, cook and see I say!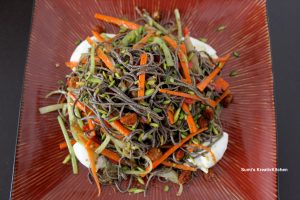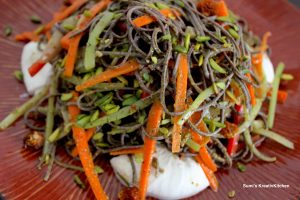 BLACK BEAN SPAGHETTI
Yield:

4 servings

Prep Time:

30 minutes

Cook Time:

10 minutes
Ingredients
1 Packet of Black Bean flour Spaghetti
1 medium Carrot
1 Celery stalk
1 Red bell pepper
1 medium White Onion
4 tsp of Basil Pesto (I used readymade)
2 tbsp Freshly squeezed Lemon Juice
1.5 tbsp Freshly ground Black Pepper
1 tsp of Red Chili Flakes
1 tbsp of Dried Oregano
2 Pickled Pepperoncinis
2 tbsp of Sliced Pistachios
2 tbsp of dried tart Berries
Fresh Buffala Mozzarella (optional)
Instructions
Wash and peel a medium size carrot and cut it up into matchsticks 3" in length. Do the same with the celery and red bell pepper. Slice 2 pickled pepperoncinis with their juices vertically. Mix everything together and keep aside.

Slice the white onion and keep aside.

In a small bowl, add 4 tbsp of basil pesto and thin it with 2 tbsp of freshly squeezed lemon juice. Add 1 tsp of red chili flakes and use a whisk to make a flavorful sauce! Keep aside.

Boil a big pot of water. Add 1 tbsp of salt and 2 tbsp of olive oil. Add the Black Bean spaghetti to the boiling water and cook for 5-6 minutes till the pasta is al dente. Drain the pasta and wash it under cold water briefly to make sure that the strands are separated well.

Heat 1 tbsp of olive oil. Add the sliced onions and sauté vigorously. Add 1/4 tsp of salt and sauté till they become soft but not brown.

Turn off the heat and Add all the vegetables to the onions. Add 2 tbsp of freshly ground black pepper and 1 tbsp of dried oregano. Mix well quickly.

Add half of the drained pasta to the veggies, and add half of the sauce. Use tongs to mix well. Add the other half of the pasta and the rest of the sauce.

To serve: Keep a platter ready! Cut the mozzarella into small chunk and place them on the corners of the platter. Plate the spaghetti on top of the cheese. Garnish with sliced pistachios and the tart dried golden berries.

Breathe deeply, tell yourself to exercise self control and grab your camera. Click the pictures like a mad person and grab your fork and proceed to consume! Watch it disappear with dismay and promise yourself to make this again....and again...and again!!

Make the grocery list of 'need urgently' items!