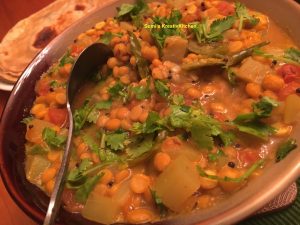 Lauki. Bottle gourd. Dudhi. Long Melon. Sorekai. Calabash.
So many names for this mild-mannered vegetable that is so malleable that it lends itself to a savory side, or a spicy curry, or a grated halwa or be transformed in a kheer! I love it. I learned in during my high school days that this magical vegetable had serious 'medicinal' properties! I was struck by a severe bout of jaundice and on the advice of a friend, my mother proceeded to feed me dudhi EVERY single day!! With a severely restrictive diet that marks the recovery of a person afflicted with jaundice, Sorekai arrived on my plate with amazing regularity everyday. You would think I would hate it after eating it for 2 months straight! But no…this one slowly but surely grew on me. Lauki juice is touted to be a diabetic's ultimate friend given it's high water and fibre content!
It is one of the simplest veggies that I make when I am in a rush and with minimal ingredients. Healthy, low on masalas, and higher in protein with the addition of the chana dal, this makes for a very satisfying  meal with plain rotis. Try it and see!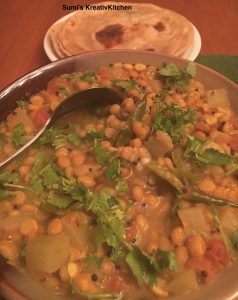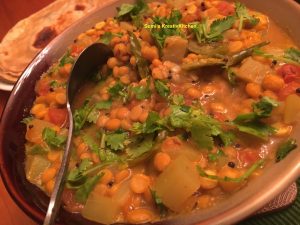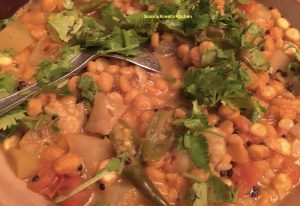 CHANA DAL- LAUKI KI SUBZI
Yield:

2 servings

Prep Time:

1 hour

Cook Time:

15 minutes
Ingredients
1 cup of chopped Lauki
3 Tomatoes
3 Green Chilies
3/4 cup Chana dal
1 tbsp Mustard seeds
1 tbsp Cumin seeds
1 tsp Turmeric powder
1 tsp of Cumin powder
1 tbsp of Coriander powder
1 tbsp fresh Lemon Juice
1/2 tsp Sugar
Chopped Cilantro
Instructions
Wash thoroughly and soak 3/4 cup of Chana dal for an hour. Drain off the water and steam till the dal is soft but not mushy*

Peel the lauki, deseed, and chop into 1" chunks

Finely chop 3 small tomatoes

Vertically slit 3 green chilies

Heat 1 tbsp of oil in a pan.

Add 1 tbsp each of mustard seeds and cumin seeds. When they begin to pop, add the chopped tomatoes and sauté till the tomatoes get slightly mushy

Add the chopped lauki and add 1/2 cup of water

Add salt to taste and 1 tsp of turmeric powder. Mix well, cover the pan and cook for about 5 minutes

When the vegetable is almost cooked, add the cooked chana dal and add 1/4 cup of water. Add 1 tsp each of cumin powder and coriander powder. Mix well, cover the pan allow everything to meld together for about 3 minutes

Turn off the heat and add 1/2 tsp of sugar and 1 tbsp of fresh lemon juice.

Garnish with finely chopped cilantro.

Serve immediately with hot rotis/phulkas/parathas.
Notes
Notes to the Chef:
* You can pressure cook the dal too, just make sure that you add just enough water and don't overcook it to a mash. The point of this subzi is to have the soft bite the dal and the soft lauki as you taste a spoonful!