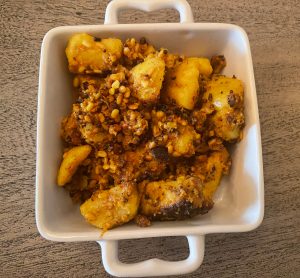 I have never been a big potato fan…I still think it is a blah individual, but a generous one. By that I mean that while it does not have much to offer just by itself (I know I run the risk of being set on flames!!), it boosts the taste quotient of the others that it stands with. In that sense, it is but a humble potato! (stealing this line from a niece :-)) Also, it takes on the flavor of whatever you add to it, so in that case, it is a cook's delight.
One such thing is this roasted potato side that is common in some Tamilian households. In this version, I went ahead and used a generous hand with the chili powder and let the potatoes rip in the pan and get dark and really crisp. Generally, folks would not go that far, but I do :-). And after you make this, I have some special notes to the chef:
Switch off the stove.
Ensure you are alone in the kitchen.
Stand in front of the wok and inhale the aromas emanating from the pan!
Take a fork and poke into one of the chunks, blow on it and pop it into your mouth!! Close your eyes and wait for the crunch!!! Pure and total bliss!
Repeat or resist (if you can and let me know!)
I would say this is comes second to the crowd-favorite: Podi Urulakizhangu (basically diced spiced potatoes) which remind me of hash browns that I have seen in breakfast buffets in many hotels, but FAAAAAAR less appetizing! Before you want to sling something at me, made these two beauties and then talk to me!!
Anyway, these blackened potatoes were a welcome addition to my plate full of typical Tamilian goodies: Parangi Pitla, Blackened Potatoes, Podalanga Pachdi, Peerkanga thogayal, and a fresh carrots, mango, roasted chana salad. And oh…how can I forget the crunch from the mixture??!! Thanks to the local Flushing Ganesh temple that churns out these goodies for bhukkads like us! 🙂
Cook and see I say!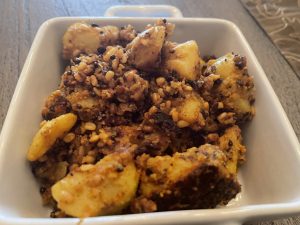 .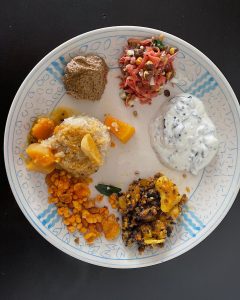 BLACKENED POTATOES--SOUTH INDIAN STYLE!!
Yield:

4 servings

Prep Time:

30 mins

Cook Time:

20 mins
Ingredients
4 Potatoes
1 big Red Onion
1.5 tbsp Mustard seeds
5 tbsp Urad Dal
1.5 tsp Turmeric powder
4 tbsp Red Chili powder
1.5 tsp Hing
4 tbsp Almond flour OR Rice flour
Instructions
Pressure cook 4 potatoes (or cook them on the stove, but it will take longer) till they get soft but not mushy. Peel and transfer to a kitchen towel to eliminate any moisture. Cut them up into big chunks. Keep aside.

Chop 1 large red onion into a fine dice.

Heat 2 tbsp of Oil in a broad wok. Add 1.5 tbsp of Mustard seeds, when they splutter, add 4 tbsp of Urad dal. Reduce the heat and start sauteing till they get to a golden brown color.

Add the chopped onion and continue to saute on medium heat. Add just a bit of salt to help the onions along so that they don't get brown but become translucent.

Add the potato chunks and mix everything lightly taking care to not break the potatoes. Add 1.5 tbsp of turmeric powder, 4 tbsp of red chili powder, and 1.5tbsp of hing. Sprinkle enough taste to taste.

Now add 2 more tbsp of oil on top of all the spices and with a flat spatula, mix everything. Spread out the potatoes around the wok in one single layer.

Increase the heat to medium-high and allow the potatoes to roast/blacken on one side.

When they are almost done, sprinkle 4 tbsp of almond flour OR rice flour (or besan if you don't have either) and then slowly turn them around and roast them on the other side.

Add 1 tbsp of oil to round it all off.

Serve piping hot with soupy rasam and rice! With some mixture on the side if you can get your hands on some! The simplest and the most IDEAL combination!!
Fair warning: Make enough if this is the only side you are making because it WILL vanish! I had other things for this meal, so made only with 4 big potatoes 🙂 It was gone anyway!
Notes
Note:
* Potatoes should not be overcooked. If they do, you may want to switch to Plan B and make potato cutlets!! Because this dish requires that you have potato chunks!
* As mentioned, this is my spicy version. Feel free to tone it down as you desire.