So, last month, thanks to our friends Varuna and Nipun, we had that once in a lifetime experience of visiting the city of delights for the soul and the stomach, Amritsar!!  Being at the Golden Temple was nothing short of a magical experience and when people say talk about Amritsar as a gastronomical delight, they are really not kidding!!  And landing there in  winter when they are putting out the goodies by literally the minute, is a challenge to resist!! Truly. So, the famed Sarson ka Saag and the Makki di Roti was presented, tasted, transported to heaven, and then back to reality, gobbled and polished off!! And for those who understand this: "Maine paelke khaaya!" (ate with complete abandon!) Somehow it sounds better in Hindi!).
And I've been back for a month and the nostalgia and the craving for that hit me. And I hit the Indian grocer with a single-minded determination…to get Bathua! The key ingredient to make this green goodness!  And Patel Brothers does not disappoint…this is for sure! Fresh Bathua (pigweed) and Sarson (mustard greens), and Spinach was procured along with Maize flour and some other fresh produce that landed on our lunch plates.
I had a lot to think about and plan for work…and I think best when I am cooking with music in the background. And see what happened here today!!  Tadaa!!!!  The whole nine yards and some of a wholesome Punjabi meal…Sarson ka saag, Makki di Roti, Bhindi  masala, Kaddu ki subzi, Bathua ka Raita, store bought pickles and fresh salad! All recipes on the website!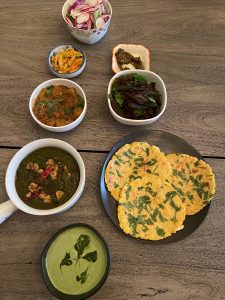 I have been following this really talented blogger/food writer/chef called Vernika Awal on Instagram who wrote about this winter staple of Sarson ka Saag and Makki di Roti a couple of weeks ago. Along with her article, she provided the recipe  for SKS by the inspirational Chef Reetu Uday Kugaji. I followed that recipe without veering from course (like I normally do) and happy to report that my SKS looked like hers! It also tasted like the one we had in Amritsar, so I am taking that 🙂
Vernika also made this thing called 'Bathua ka raita'…something that I had never eaten or heard of before! So, now that I had Bathua, I reserved a small portion and made it! It was yummm!!!!
Now for the not so successful part: Makki di Roti. I have clearly not gotten that right. I followed the instructions of a very dear friend Nindi (whose culinary skills I can ony aspire to get!!). Added warm milk and water to the maize flour to get a soft pliable dough. But the patting down and expanding it  was not like what I see others do so easily!  I struggled, gave up and just used a plastic to pat it down and transfered it on to a hot tava and cooked it….after the initial 2 broken ones, the 3 that I was able to salvage are featured  here 🙂
Added a couple of subzis to the plate: Bhindi Masala and some left-over Kaddu-Aloo 
No plate of food at Sumi's is complete without a salad and achaar 🙂 So a side of fresh sliced onions/radish/cucumbers fusted with salt/pepper and drizzled with fresh lemon juice along with store bought fresh turmeric/mango/carrot pickle and a green chili pickle completed the plate!
Here's what our plate looked like before we attacked! 🙂