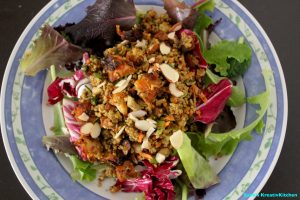 I doubt if there is anyone who has not heard of the famous vegetable ubiquitous in in every small/big Indian restaurant: Aloo Gobi! If you would like to make it, here is the recipe which I had posted earlier.  It is literally the most common offering for vegetarians after Chana! So, I had left over Aloo Gobi sitting in the fridge which we happen to LOVE! But, it was too much for one but not enough for two….so were small containers of cooked foxtail millet and quinoa…..so, a predicament. And I was not in the mood to make something from scratch. So with a few other things that were leftover and some veggies for freshness, I turned it into a warm, filling desi salad that left us wanting more! I wondered why I didn't make this before…but now, it is here to stay in my salad repertoire! Read on, cook and see I say!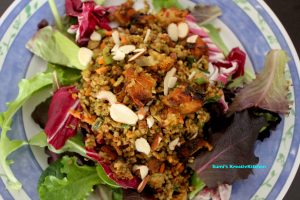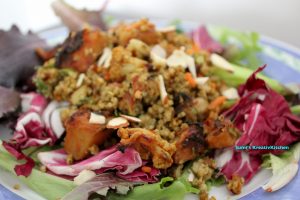 SIDE DISH TO WARM SALAD: LEFTOVERS TRANSFORMATIONS-2
Yield:

3 SERVINGS

Prep Time:

10 MINUTES

Cook Time:

15 MINUTES
Ingredients
Leftover Aloo Gobi: 1 cup
Leftover cooked foxtail millet: 1 cup
Leftover cooked quinoa: 1/4 cup
Cumin seeds: 1/2 tsp
Spring onions: 1 bunch
Red chili flakes: 1 tsp
Garam Masala: 1.5 tsp
Coriander-Cumin powder: 1 tbsp
Grated carrots: 1/4 cup
Fresh lemon juice: 1 tbsp
Sliced almonds: A handful
Instructions
Preheat the oven to 375 degrees Fahrenheit OR heat up the toaster oven to the maximum temperature.

Line a baking tray with foil and grease it well. Spread the Aloo Gobi (with tomato juices and all) on the tray in one single layer.

Grill the Aloo Gobi for 12-13 minutes till it every piece is separate, juices absorbed and a char develops on the outside of the potatoes and the cauliflower florets.

While the Aloo Gobi is getting grilled, heat 1 tbsp of oil in a pan. Add 1 tsp of cumin seeds and allow to splutter.

Add chopped spring onions (both green and white parts) and saute on medium heat till it wilts.

Add 1 tsp of red chili flakes, 1 tsp of garam masala, 1 tbsp of coriander-cumin powder and salt to taste. Mix well.

Add leftover 1 cup of cooked millet and 1/4 cup of cooked quinoa.

Turn off the heat, add 1 tbsp of fresh lemon juice, and mix everything well.

Add the grilled Aloo Gobi.

Add a handful of sliced almonds for crunch.

To serve: Spread a base layer of salad greens on the plate. Drizzle a simple dressing (2 tbsp of olive oil+ 1 tbsp of lemon juice+ 1 tsp of orange marmalade+ salt + freshly ground black pepper) on all the leaves. Top it with the warm salad. Decorate with additional sliced almonds and attack immediately!!