As I have said many times before, what folks do with the same ingredient in different regions of India is just mind-blowing! Here is one such humble ingredient: the raw banana. Well before it ripens and is gorged as fruit by the masses, cooks everywhere get to it and create magic! From koftas, to subzis, to gravies, to this….what we Tamilians call Vazhakka Podi, i.e. "the raw banana powder." But this dish is far from powder. It is an incredibly simple and quick recipe full of flavor and comfort galore! Serve it with a cold red onion pachdi and you will be ready for a nap!!
Cook and see!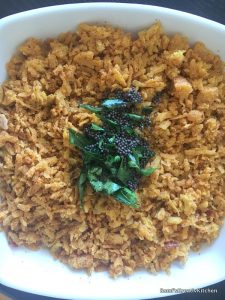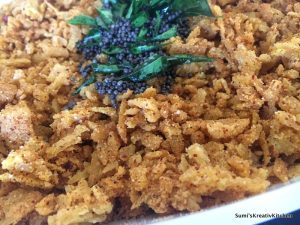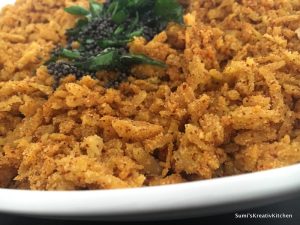 VAZHAKKA PODI
Yield:

4 servings

Prep Time:

5 minutes

Cook Time:

20 minutes
Ingredients
Raw bananas: 2
Urad dal: 6 tbsp
Tur dal: 1 tbsp
Whole Black Pepper: 3-4
Cumin seeds: 1tsp
Dried red chilies: 4
Asafoetida: 1 tsp
Mustard seeds: 2 tbsp
Curry leaves: 4-5
Olive oil: 2 tbsp
Sesame oil: 2 tbsp
Instructions
Heat 1 tbsp of Olive oil, reduce the heat to low-medium. Add 6 tbsp of urad dal+1 tbsp of tur dal + 3-4 whole black pepper + 1 tsp of cumin seeds + 4 dried red chilies. Saute vigorously till the dals turn golden brown. Turn off the heat. Add 1 tsp of hing. Mix everything well. Cool and blend to a coarse powder. Keep aside.

Heat a big wide pot of water. Wash and trim the edges of the raw banana. Add to the water and add a pinch of salt. Allow it to cook for about 7-8 minutes. Use a toothpick to check if the kela is cooked. If not, allow it to cook some more till it is cooked but firm. Ensure that it is not over cooked! This is very critical for this recipe. *

Once the kela is cooked, use a slotted spoon to take them out of the water and place them on a plate. Use a paper towel to pat them dry. There should be no moisture. Cool them completely. Then using a sharp paring knife, slit the skin of the raw bananas and peel them off. Once again, use a paper towel to pat them dry.

Use the wide side of the grater and grate both the raw bananas into a big bowl. Add 2 tbsp of sesame oil and salt to taste. Mix well. Now add the coarse powder all over the grated bananas and mix well.

Heat 1 tbsp of oil and add 2 tbsp of mustard seeds. When they begin to splutter, tear 4-5 curry leaves and mix well. Pour the tempering over the Vazhakka Podi.

Mix Vazhakka Podi with hot rice and serve with Red Onion Pachdi (Raita).
Notes
Notes for the Chef:
* You can steam the raw bananas as well but if you do not watch the time or overcook it, it will be a big mush and defeats the purpose. That is why I prefer to cook it on the stove where I can see and control the extent of cooking.