Saag Paneer or Paalak Paneer. Another of those commonly known paneer dishes. I was tired of the same and wanted to change it up a little for a different flavor. So, made this with tangy yogurt and carom seeds! Give this a whirl and let me know what you think!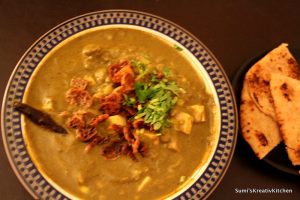 INGREDIENTS
Fresh spinach, Paneer, Tomato, Tangy yogurt (Greek yogurt) (Dahi), Carom seeds (Ajwain), Cumin seeds, Dried red chilies, Frozen corn, Turmeric, Red chili powder, Garam masala,  Cumin-Coriander powder, Ginger powder, Dry mango powder (Amchur), Lotus root.
RECIPE
Wash and chop 2 cups of fresh spinach roughly and cook them in a big pot of boiling water. When they get soft,  drain off the water and transfer the cooked spinach to a  blender.
In a small pan boil 2 cups of water. Add one medium sized tomato to it and allow to boil for about 3-4 minutes. The skin of the tomato will split. With a slotted spoon, lift the tomato from the water and place it on a plate. Peel off the skin and add the tomato to the blender along with the spinach.
Blend the spinach and tomato to a fine paste.
Take 3/4 cup of thick, tangy yogurt in a bowl and add a little bit of water and whisk to a smooth consistency.
Add the blended spinach-tomato paste to the yogurt.  Mix well & keep aside.
Take soft fresh paneer and cut it up into 1″ squares to make up 3/4 cup.
Heat 2 tbsp of oil.
Add 1 tbsp of cumin seeds and allow to splutter.
Add 2 tsp of ajwain and 2 red chilies and saute quickly.
Reduce the heat all the way to the lowest setting.*
Add 1 tsp of turmeric powder + 2 tsp of red chili powder + 3 tsp of cumin-coriander powder + 1 tsp of ginger powder + 1 tsp of dry mango powder.
Saute vigorously to prevent the spices from burning.**
Add 2 tbsp of water and then add the yogurt-spinach-tomato mixture.
Turn up the heat to medium high and keep stirring with a whisk to avoid the yogurt from splitting.
Allow all the spices to blend with the yogurt spinach mixture.
Add the diced paneer.
Add 3/4 cup of cooked/thawed corn.
Add salt to taste.
Add 2 tsp of garam masala and mix everything well.
Simmer for a 2-3 minutes on low-medium heat.
For the topping***: Slice lotus root really thin and deep fry them till they are golden brown and crisp. Drain them on to a plate lined with paper towels. Sprinkle a little bit of salt on the crisps and mix well.
Spoon the hot dahi paalak paneer into a serving bowl, garnish with lotus root crisps and finely chopped cilantro just before serving.
Serve hot with Naans or any bread of your choice!
Notes to the chef: 
*If you are unsure about the heat adjustment, after the seeds crackle, turn off the stove and add the spices and then turn it back on. It is better to do that rather than burn the spices which will spoil the taste of the dish totally.
**You can simply make a spice mix in a small bowl of the said quantities and add them in one shot so there is no time lost in between add the spices and sauteing.
*** This is completely optional! I wanted a crunch factor also introduce another visual element to break the green mix, hence I used lotus root. You can skip it completely or use another crisp element (like some chips??!!!) in the place of lotus root. But if you can and haven't tried it, I would highly recommend lotus root! I use it in many of my preparations and it is really good!