The markets and the grocery stores in New York and Boston are bursting at the seams with amazingly fresh produce…it takes a LOT of will to not buy everything in sight! I found these irrestible multicolored carrots and broccoli and picked them up. A look at my pantry revealed certain things that had been sitting around for some time; namely: Indian style garlic pickle and green chilies in vinegar. So, I mixed the fresh with the pickled and created a simple meal of lemony carrots with burnt garlic and chili fried rice. Add topped with crispy tofu and charred broccoli, and voila! You have a beautiful vegan veggie forward dinner plate to enjoy! And here's how they all came together: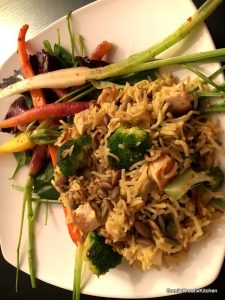 INGREDIENTS 
Extra firm tofu, Fresh young carrots, Broccoli, Pepitas (pumpkin seeds), Garlic pickle/fresh garlic, Green chilies in vinegar, Red chili flakes, Fresh lemon juice, Olive oil, Sesame oil, Basmati rice.
RECIPE
Sauteed Carrots:
Wash and peel 8 multicolor carrots.
Take a large bowl and fill it with ice and some water. Leave some room at the top.
Boil a big pot of water and sprinkle some salt.
Add the carrots to the boiling water and blanch them for 2 minutes.
Turn off heat and quickly take out the carrots with a slotted spoon and drop them into the bowl with ice and water.
After 1 minute, take the carrots out on to a plate lined with towels and keep them aside.
Dab the carrots with the towel to dry fully.
With a sharp knife, slit each carrot vertically into halves.
Heat 1.5 tbsp of olive oil in a large flat bottomed pan.
Add 1 tsp of dried red chili flakes to the oil, reduce the heat and saute lightly.
Gently add the carrots into the oil and mix well.
Once the carrots are heated through, transfer them one by one to a serving platter.
Fried Rice:
Heat 1 tsp of sesame oil.
Add 3/4 cup of cubed extra firm tofu and spread them in a single layer at the bottom of the pan.
Reduce the heat and allow the tofu skin to get crisp. Avoid the temptation to move the tofu around!
Watch the tofu getting brown for about 3-4 minutes and then with a flat spatula, slowly transfer them to a plate and keep aside.
In the same pan, heat up 1/2 tsp of sesame oil.
Add 3/4 cup of broccoli florets. Arrange them in a single layer at the bottom, let them roast for 4-5 minutes till they get slightly charred. Then transfer them to a bowl and keep aside.
Wash 1/2 cup of basmati rice* thoroughly to get rid of all the starch.
Drain 6 green chilies of the vinegar and slit them vertically.
Heat 2 tbsp of sesame oil to a smoking point.
Add 3 tbsp of the garlic pickle** (or 3 tbsp of minced fresh garlic). Wait till the aromas fill your kitchen.
Add the washed rice and the green chilies.
Saute till the rice is nice and toasty.
Add 1 cup of water, cover and cook for about 8 minutes till the rice is cooked.
Fluff up the rice with a fork.
Add the crisp tofu and the broccoli.
Add 4 tbsp of toasted pumpkin seeds***.
Gently mix everything with a flat spatula.
To serve:
Toss some fresh salad leaves with a bit of salt and olive oil. Create a bed of salad on a plate. Serve yourself some carrots. Drizzle 1 tsp of fresh lemon juice over the carrots. Spoon some fried rice on the side. Dig in!!
Notes to the chef:
*Substitute quinoa/millet for a healthier version.
** I used store-bought Indian-style garlic pickle. If you don't like/have them, using fresh garlic is never a bad option! 🙂 Since I used the pickle, I did not add any additional salt to my fried rice. But if you are not using pickle, you will need to add salt to the rice according to taste.
***I added pumpkin seeds, but you can  use another nut of your choice or eliminate them altogether!