Today, I am highlighting one of India's most popular and ubiquitous snack: The Samosa!! Be it a top rated restaurant or a snack seller around the corner on the streets of India, the samosa is one thing that one cannot escape from! I am yet to meet one other person who dislikes this fried goodie!  These days, folks are stuffing the samosas with any and every possible ingredient, and while I love experimenting, this is one thing that I prefer un-tinkered! Just the good old samosa stuffed with potatoes and peas…aah the comfort of the carb coma that ensues!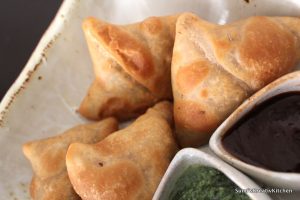 So, last weekend, I had a severe attack of "I want to eat samosa with my chai…" in the evening. A brief discussion ensued and my indulgent husband proceeded to order samosas for his wife from an Indian restaurant round the corner. After an annoying delay, the samosas finally arrived. I promptly placed them in the toaster oven for a few minutes (because you see, samosas have to be eaten at just the right temperature!) and made the traditional adrak-elaichi wali chai and put out the chutneys and greedily bit into the large hot samosa! One bite, and my enthusiasm promptly faded! The large lumps of potatoes (that prevented the spices from getting properly incorporated) and the pungent smell and taste of an extraordinary amount of ginger was so off putting. This has happened to me repeatedly in the US…it is impossible to find a good samosa!
So, this past weekend, I dusted off my laziness and proceeded to make my own samosas after a long hiatus (literally over a decade!…yes, it has been that long!) Verdict: Samosa taste: A+, Visual appeal: B (needs significant improvement!). But they did not stay around for long for me to critique their looks, their taste won out!! 🙂 So, here is the recipe for all you birds out there craving a good samosa:
INGREDIENTS
For the shell:
All-purpose flour (Maida), Salt, Oil, Carom seeds (Ajwain).
For the filling:
Potatoes, Green peas (fresh/frozen), Cumin seeds, Turmeric powder, Red chili powder, Asafoetida (Hing), Fresh ginger paste, Coriander powder, Garam masala,  Fennel powder, Pomegranate (Anardana) powder, Dry mango powder (Amchur), Fresh lemon juice, Sugar, Fresh cilantro.
RECIPE
Take 3 tbsp of cumin and roast them in a skillet they are toasty and grind them up to a fine powder.
Cook green peas till they are soft (if using fresh). If not, thaw 1 cup of green peas.
Cook 4 extra large potatoes till they are really soft. Drain off all the water and dab them with a towel to get all the water out. Let them rest and air dry and cool down. Peel them and place on a large plate. With a fork, gently mash the potatoes till they are a mix of small chunks and mashed up potatoes.
 Heat 3 tbsp of oil in a large wok.
Add 2 tbsp of cumin seeds.
When they crackle, reduce the heat to low and add the potatoes + thawed/cooked green  peas + freshly ground cumin powder + 2 tbsp of red chili powder + 1 tsp of turmeric powder + 1 tsp of  hing + 1.5 tsp of fresh ginger paste + 2 tbsp of coriander powder + 1 tbsp of fennel powder + 4 tbsp of garam masala + 2 tsp of anardana powder + 1 tsp of amchur + 1 tbsp of fresh lemon juice + a pinch of sugar + salt to taste + 4 tbsp of finely chopped fresh cilantro.
Turn off the heat, and gently mix all the ingredients together with a flat spatula without mashing the potatoes too hard.
Transfer to a bowl, cover it and keep aside on the counter (do not refrigerate it!).
To make the shell: Add 2 cups of maida in a large mixing bowl. To this, add 1/2 tsp of salt and 1/2 tsp of ajwain and mix well. Add 1/4 cup of canola oil to the flour and mix well and gently to incorporate all the oil into the flour. After 3-4 minutes of mixing, you should be successful in making a loose ball in your fist. At this point, add cold water in very small amounts and start mixing the flour/oil mixture to make a soft dough. You should be able to make a soft malleable dough with about 1/4 cup of water. Add a few drops of oil at the end to bring the dough together. Cover the bowl with a tight lid and set aside for about 20 minutes.
Uncover the dough and divide it into large lemon-sized balls.
Use a little bit of oil to roll out each ball into a thickish circle.
With a sharp knife, cut the circle into half. When you facing the semi-circles, make sure that the circular part of the semi-circle is at the bottom and the straight edge is on top.
Use your finger to smear a little bit of water all around the semi-circle.
With both your hands, lift up both the straight edges of the semi-circle and seal them in a line together. Ensure that the seam is well sealed and turn it upside down. You will now be holding up a dough-cone ready to be filled!
Use a small spoon to fill the cone with the potatoes-peas mixture. Do not over fill, leave a little bit of room to enable complete sealing.
Now, seal the edges completely and tightly. Place them on a plate and ensure that they do not stick to each other.
Fill the rest of the samosas.
Heat up canola oil. Reduce the heat to a medium-high.
Fry the samosas till they are golden brown and drain them on a paper lined with paper towels.
Serve piping hot with a mint-cilantro chutney or tamarind-date chutney!!