Adai is a classic snack (tiffin) in many households in South India. It is a hearty lentil crepe that is often eaten for dinner! Typically, it is made with rice and lentils such as chana dal and moong dal. However, in an effort to move away from the much maligned rice I substituted it with quinoa and millet to keep it super healthy.  Also, for those familiar with this cuisine, Murunga Keerai Adai, i.e. Adai with the super food Moringa leaves is a delicacy! My joy knew no bounds when I discovered that this was now available in the U.S. and in plenty! I never walk away from these amazing bitter greens which work well in Adais, Sambar, Subzi, Muthia………….
If you haven't tried these greens or this filling and satisfying crepe called Adai, you must!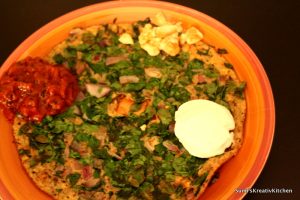 INGREDIENTS
Chana Dal, Moong Dal, Black-eyed peas, Chickpeas, Brown chickpeas, Quinoa, Foxtail Millet, Dried red chilies, Fresh Moringa leaves, Onion.
RECIPE
Soak½ cup of  chana dal, ¼ cup each of moong dal, black-eyed peas, chickpeas, brown chickpeas, whole green moong, quinoa, and½ cup of foxtail millet together in a big bowl overnight or for 8 hours.
Grind all the above together in a blender with 3 red chilies (or more if you prefer spicy) to a coarse batter. Add salt to taste and mix well. Add just enough water to the batter to make it pouring consistency, like pancake batter, not too thin.
Wash one cup of fresh moringa leaves and chop them fine.
Chop one big red onion. Add the moringa leaves to the onions and keep aside.
Heat up a griddle and add ¼ tsp of oil and spread it around.
Reduce the heat to medium-high and  spread the batter like you would a thickish dosa.
With the edge of a spoon, make a hole in the center of the Adai.
Quickly sprinkle the finely chopped onion+moringa leaves on the Adai and press down with a spatula so that the leaves are embedded firmly on top of the Adai.
Add some oil around the Adai and allow it to crisp up to a golden brown. Flip it carefully to the other side and let it cook through.
Serve hot with a dollop of sour cream, any spicy chutney (shown here with tomato chutney) and some jaggery!
Notes for the chef: 
If you don't have moringa leaves or don't like them, simply substitute any other green like spinach, arugula, swiss chard or even kale!
You can substitute sour cream for vegan butter/sour cream