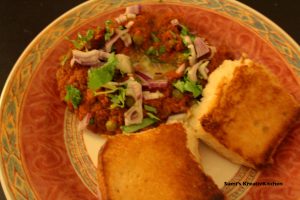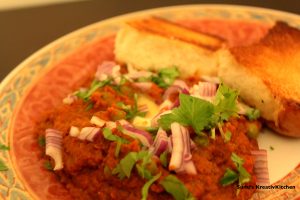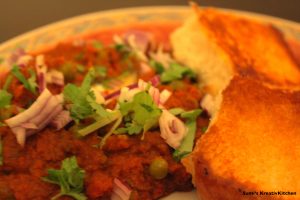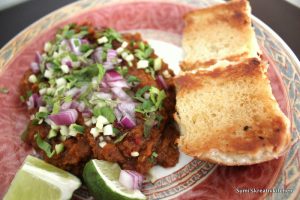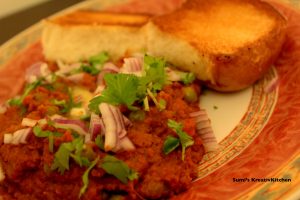 I doubt if there is a single street-food loving Indian who is unaware of the irresistible pau bhaji! It is a deceptively simple dish and I am sure all of us pau bhaji loving souls know that not all pau bhajis are created equal! I for one, love the ones that use an array of veggies, not just the potatoes and bell peppers. So, here is my take on one of the most beloved street foods of Mumbai!
INGREDIENTS
Fresh vegetables (bell peppers, cauliflower, squash, potatoes, french beans, carrots, zucchini, green peas, eggplant), Red onions, Tomatoes, Tomato paste, Fresh ginger, Garam Masala, Dry Mango powder, Pau Bhaji masala, Coriander-cumin powder, Kashmiri red chili powder.
RECIPE
Chop the vegetables roughly (3 green bell peppers, 1 whole cauliflower, 1 yellow squash, 1 zucchini, 4 potatoes, a handful of french beans, 2 medium sized peeled carrots, 1 medium sized eggplant).
 Pressure cook all of them together (minus the peas). Do not add too much water while cooking and if you happen to, simply drain off the excess water.
 Use a potato masher to mash the cooked vegetables, but keep them a little bit chunky.
 Blend 2 medium-sized red onions to a fine paste along with a piece of fresh ginger.
 Blend 4 well ripened tomatoes and keep aside.
 Heat oil in a large pan, and add the onion-ginger paste. Saute really well on medium heat till it is well-browned.
 Add the blended tomatoes, cover the pan and saute well.
 Add a pinch of turmeric powder, 2 tsps red chili powder, 2 tsps of Kashmiri red  chili powder, coriander-cumin powder, pau bhaji masala, garam masala and saute the mixture till the mixture starts to leave the sides of the pan and the spices lose their raw smell.
 Add the mashed vegetables and mix everything together.
 Mix 2 tablespoons of tomato paste in a little hot water and add to the vegetables.
 Add 1 teaspoon of dry mango powder and allow to cook on medium heat for 10-12 minutes. Bhaji is ready!
 Heat up 1 tsp of butter or oil in a skillet.
Break up the 'pau' (bread rolls) and brown each side with a bit of butter till it turns crispy.
HOW TO SERVE
To a plate, add a generous helping of the piping hot 'bhaji' on a plate. Top with finely diced red onions and green mango (if available) and finely chopped cilantro. Squeeze some fresh lime juice over the vegetable. Finally, add a slab of butter (not shown!! here! and not needed if you are vegan). Dunk the warm crusty pau into the hot 'bhaji' and enjoy!!