Sometime back, when I was on a Mumbai street foods cooking trip, I had posted the recipe for the beloved Pau Bhaji, the recipe is here.   
So, I made it again and had a little left over (you know by now where I am going with this :-)). Yes, it has been well-established that I am incapable of cooking for two!! So there was a little bit left which would not suffice for a Round 2 of Pau Bhaji binge! After thinking about it, I decided to use another item sitting in my freezer begging to be used…PUFF PASTRY! For obvious reasons of high fat, etc etc, I hardly use this ingredient, but I have found that this is one versatile pastry that can be used in many different recipes, both sweet and savory…Here is the DESI HOT POCKET!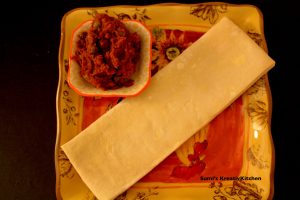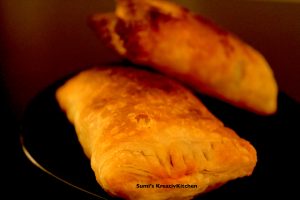 DESI HOT POCKETS
Yield:

4 hot pockets

Prep Time:

20 minutes

Cook Time:

8 minutes
Ingredients
Left over Pau Bhaji
Puff Pastry
All-purpose flour
Instructions
Take half a sheet of the puff pastry out of the packet and defrost it on the kitchen counter till it it soft.

Preheat the oven to 400 degrees Fahrenheit.

Dust a clean surface with a little bit of all-purpose flour. With a thick rolling pin, roll out the puff pastry (a medium paratha) into a rectangular shape.

Using a sharp knife cut it vertically into 4 long pieces.

Warm up the left over Pau Bhaji till it is warm to touch.

Use a small spoon and place the Pau Bhaji in the center of the top half of one of the pieces in a vertical pattern.

Take the bottom half of the rectangle and fold it and gently seal the edges with your fingers.

Take a fork and go around the hot pocket and press down to make a pattern and seal it fully.

Repeat with the other 3 pieces of puff pastry.

Grease a baking tray lightly and gently lift each hot pocket and place it on the baking tray making sure to leave enough space between each of them.

Place the tray in the preheated oven and bake for about 5 minutes (depending on your oven) till it. browns and puffs up. With a spatula turn each hot pocket over and bake for another 2-3 minutes. Keep an eye on them, making sure that they don't overcook or burn!

Take them out and allow them to rest on a cooling rack for a couple of minutes.

Gorge them while warm!! Caution: contents inside tend to be really HOT!! So watch your tongue!!!! Cool down with a refreshing and cold beverage!