I am heading to India shortly and am already salivating at the thought of all the goodies that await! The absolute first on the list are the street foods of Mumbai!! The chaat is something that I just don't TIRE of EVER!! The paani puri,  the dahi batata puri, pau bhaji,the bhel, the ragda pattice, etc etc etc….the list goes on and on…and so does my eating!!
All those who know me know my passion, nay, obsession with paani puri!! One friend dutifully collects videos of dogs, cows, people, cartons gorging on this immensely popular street food and sends it to me regularly!! I know of folks who wonder: what is the big deal about spiced water?? But how can one explain the sheer joy of the puri filled with spicy water exploding in your mouth competing with the tears streaming down because of the spice, and the eyes getting bigger as one struggles to slowly chew the puri and swallow the paani all at the same time??!! I can't and I won't….I will let you make this paani puri and experience it for yourself!
Disclaimer: I have not had the pleasure of eating the Calcutta puchkaas or the Delhi golgappas. So I am going with what I deem is the best: the Mumbai ka paani puri!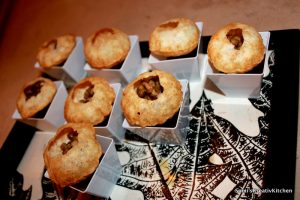 INGREDIENTS
Ingredients for Paani Puri: Spicy paani (water), Tamarind-Date chutney (Sweet paani), Cooked Sprouted Mung beans, Cooked white chickpeas.
Ingredients for Spicy Paani: Cilantro, Mint, Green chilies, Ginger, Jaggery, Black salt (kala namak), Red chili powder, Roasted cumin powder, Fresh lemon juice, Chaat Masala.
Ingredients for Tamarind Date chutney: Tamarind pulp, Pitted dates,  Jaggery, Red chili powder, Roasted cumin powder, Ginger powder, Salt.
RECIPE
Recipe for the Spicy Water:
a. In a small bowl, place a 2″ piece of jaggery and add hot water and allow to rest for an hour. Mix well when the jaggery is completely melted.
b. To the blender jar, add 2 cups of cilantro + 1 cup of fresh mint leaves + 1cup of whole de-stemmed green chilies + 1″ piece of peeled sliced fresh ginger. Blend everything to a fine puree and strain through a fine sieve into a large bowl.
c. To the sieved mixture,  add the jaggery water + 2 tsp of red chili powder + roasted cumin  powder + 3 tbsp of freshly squeezed lemon juice + 1 tsp of chaat masala + 1 tsp of black salt + salt to taste. Mix well.
d. Add 8 cups of water to the mixture. Mix everything well.
e. Transfer to a big glass bottle with a tight lid and keep refrigerated till you are ready to use.
Recipe for Tamarind-Date chutney:
a. Soak 1 cup of pitted dates in hot water just until they are covered for 4 hours. Blend to a fine paste. Strain through a sieve. Measure the amount of date paste you get after blending. Add equal amount of tamarind paste to it. (If you do not have ready tamarind paste, you can soak a big ball of tamarind in hot water for an hour and squeeze the pulp. But make sure to strain the pulp so that the tamarind paste is smooth and without any debris). Mix both pastes and keep aside.
b. In a saucepan, add 3/4 cup of grated jaggery and add 2 tbsp of water. Heat on medium high. The jaggery will slowly start melting and start to thicken. Add the tamarind-date paste to the jaggery. Stir well. Add 1/2 tsp of red chili powder, 1 tsp of roasted cumin powder, 1/2 tsp of ginger powder, and salt to taste. Mix everything well and allow to cook till the whole mixture becomes thick, dark and starts to coat the back of the spoon. Cool completely and transfer to a glass jar with a tight lid and keep refrigerated. This chutney will last a month at least.
Assembling the paani puri:
Step 1: Cook the sprouted mung beans. Drain off the excess water. Lightly salt them and keep aside in a bowl.
Step 2: Pressure cook 1 cup of white chick peas (this is a variant of the garbanzo beans and available at the Indian grocery stores. But at a pinch, garbanzo beans are okay too). Drain off all the excess liquid and lightly mash with the back of a heavy spoon. The mixture should be chunky. Add some finely chopped cilantro and mix well. Keep aside in a bowl.
Step 3: Take out the spicy water in a big bowl. Add the tamarind-date chutney to a bowl and add a little water to make it loose. This is the 'sweet water.'
Step 3: Place the puris on a serving platter. Using your thumb, make a small hole in each puri.
Step 4. Line up the ingredients for paani puri in the following order: Platter of puris, Cooked sprouts, Chickpea mixture, Spicy water, Sweet water.
Step 5: Pick up a puri, add a tsp each of sprouts and chickpea mixture. Then dunk the puri into the spicy water and then finally the sweet water. Quickly pop it into your mouth and close your eyes! You may just be in heaven!!
Tips for the Chef: You can serve paani puri in many formats. The easiest on the chef is to line up the ingredients and let the guests make the paani puris themselves. It can be a fun experiment! To give folks an authentic experience, you can line them up, hand them each a mini plate/cup with a napkin (very critical) and have them watch your clean hands (!!) fly over the ingredients and dunk the puris in the magical waters and serve them individually. I guarantee you some blessings will be coming your way!! Recently, I went another route and served them in mini cups as paani puri shots! Really cool way to have your guests experience street food. Do your own thing and let me know how it goes! Enjoy!!