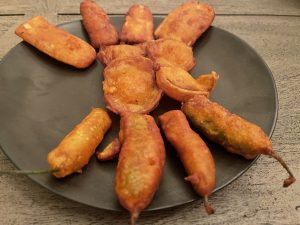 Those who are on a diet and/or do not enjoy fried snacks, this is not for you unfortunately! Because this post is one of indulgence….We were out the whole day and finishing up chores after a hearty breakfast at a friend's place. With all the work, lunch was not a priority, so skipped it. Augmented by severe rain and dipping temperatures! So, when we got home and hunger pangs hit, the virtuousness was all but lost! The shishito peppers had been sitting in the fridge for a few days and I hadn't gotten around to making the healthy version (charring it in the oven/cast iron pan, sprinkling some salt and squeezing a good does of lemon and eating it just like that!). So, the scheming hunger pangs made it do it….seriously! And out came the frying pan!! So, here is the thing about Bajjis/Bhajias/Pakodis….They are fantastic when someone else makes them and you are merrily eating and chatting….But when you have to be the bajji-maker, it is hard. Because those darn things start getting cold especially in late Fall in NYC! So, today, I decided to try a batter with a difference! The holy trinity flours were Besan + Rice Flour + Cornmeal! Adding cornmeal was a good call! The bajjis stayed firm and did not wilt away! The peppers also needed double dipping, but once the dunking is happening, and the gaana is bajaaoing, then once/twice doesn't matter! Hot hot masala chai + Bajji bliss!!
And the BEST part: These beauties stayed firm till the next day!! And a quick zap in the microwave, they were good to be paired with a bowl of daal-chawal!! The bliss continued…..:-)
Cook and see I say!!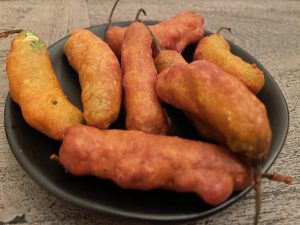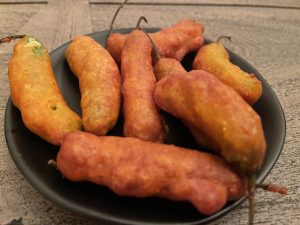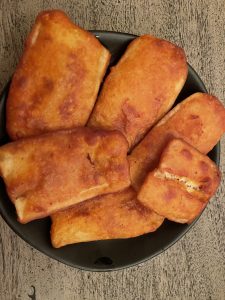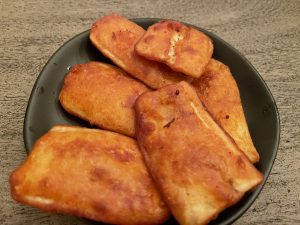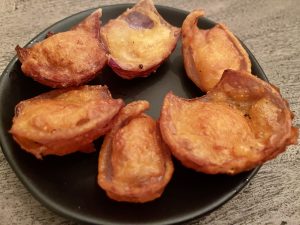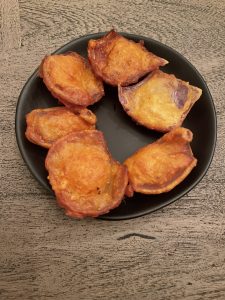 BAJJIS
Yield:

Approximately 40 pieces

Prep Time:

15 minutes

Cook Time:

30 minutes
Ingredients
20 Shishito peppers
1 Small Green Plantain
1 Small Red Onion
3/4 cup Besan
1/4 cup Rice flour
1/4 cup Yellow coarse Cornmeal
2 tbsp Red Chili powder
1 tsp Turmeric powder
1 tsp Hing
1 tbsp Coarsely crushed Coriander seeds
1 tsp Eno
Oil for Frying
Instructions
Wipe off any moisture/dirt off the shishito peppers

Peel, slice and cut up the green plantain into 3" long pieces. Cut the onion into large cubes and separate out the petals.

In a big bowl, add 3/4 cup of besan + 1/4 cup of rice flour + 1/4 cup of yellow cornmeal. Add all the spices and mix well.

Heat up 2 tbsp of oil and add to the bowl and mix everything well together. Now, slowly add water to make a thickish batter. Ensure that it is not too runny. If you end up adding more water, just add more besan and a tbsp of cornmeal. Add salt to taste. Keep aside. Bajji batter ready! Take out your choice of chutneys/sauces/ketchup in bowls and have them ready!!

Heat up oil for frying in a small wok. When the oil is almost ready, add a tsp of Eno to the Bajji batter. Whisk vigorously.

Start dunking the peppers, plantains, and onions into the batter one by one and drop them into the oil. Do not overcrowd the oil. Fry them till they are a nice light brown on all sides and take them out with a slotted spoon on to a big plate.

Repeat the dunking process one more time and drop them back in the oil. Fry the bajjis till they are golden brown and take them out on to a plate lined with paper towels.

Do not wait/watch! Call the brood to gobble them when they are still hot and crisp! Otherwise there is a real danger that the chef will be polishing them off!!