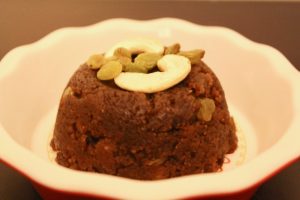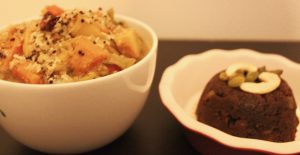 The pandemic has all but eroded the purity of joyous celebrations…..nevertheless, today is Thiruvadarai…a celebration of Lord Nataraja. My father was named Natarajan because he was born on this day. If he had lived, he would have turned 90 today….hope he is celebrating and happy wherever he is…..a lot of people in TamilNadu and Kerala celebrate this day and this is a festival that held special significance in our household! So in continuance with that, I decided to push forth and make the traditional offerings: 'Kalee' and 'Kootu.'
The former is a rice-dal mash folded into a jaggery syrup and the latter is a veggie-laden delight that is all at once spicy, tangy, and mildly sweet. These are offered and eaten together to strike a balance of flavors.
Kalee is a sweet dish without being cloyingly sweet and is traditionally made with soaking rice, drying it out on a towel, roughly powdering it, etc. But I discovered that it tastes just as good when made with idli-rava!! A few steps less 🙂 and who has ever complained about less work?
The kootu is called 'Yezhu Kari Kootu' (7 vegetables curry) so one has to ensure that the veggies chosen provide the balance. So a mix of yams, beans, broad beans, ash gourd, butternut squash, and lima beans, sweet potatoes, & potatoes are used. Just use whatever is available on hand! I just make sure to use those that don't go mushy when cooked (more tips below).
To just make it easy, I am going to pen down both recipes here rather than in the recipe card:
KALEE
Ingredients: 1 cup Idli Rava, 1/4 cup of Mung Dal, 1/4 cup Tur Dal, 3/4 cup of shaved jaggery, 5 tbsp of Dark Molasses, 1 tbsp cardamom powder, Handful of Cashewnuts and Green raisins, 4 tbsp of Ghee.
Method: 
a. Roast the dals till golden brown and grind them to a coarse powder (not too fine). b. Roast the Idli Rava till light brown. c. Mix the rava and the ground dals and add 5 cups of water. Pressure cook for 15 minutes (I used the Instant Pot). d. To a thick bottommed non-stick pan, add the jaggery and 1/2 cup of water. Allow the jaggery to melt completely and reduce heat and keep stirring till bubbles are formed and it starts to thicken. e. Add the cardamom powder and reduce heat to low. f. Add the cooked Idli rava-Dal mixture slowly to the molten jaggery and keep stirring vigorously. Use a thick wooden spoon to break up any lumps that may get formed. g. Add 5 tbsp of dark molasses and 1 tbsp of ghee and mix well. h. Cover and allow to cook and blend together for a couple of minutes. Uncover and mix well. i. Heat 3 tbsp of ghee in a pan, add a handful of broken cashews, sautee till they get golden brown. Turn off the heat and add a handful of green raisins. Add these along with the ghee to the Kalee. Mix well and serve piping hot!!
YEZHU KARI KOOTU
Note: All vegetables should be chopped into identical 2″ long pieces.
Ingredients: 1/2 cup cooked Tur dal, 1 cup cut Green Beans, 1 cup cut Broad Beans, 2 Medium peeled potatoes , 1 cup cut Ash gourd,  1 cup cut Red pumpkin/Butternut squash, 1 cup of cut Yam, 1 cup of cut Carrots + 1/2 cup of Lima Beans, Thick Tamarind pulp (4 tbsp), 1 tsp Turmeric powder, 1 tsp Hing, 1 tbsp Mustard seeds, Curry leaves,  Masala paste (roasted and ground together): 3 tbsp coriander seeds+2 tbsp chana dal + 1 tsp black pepper+2 tsp cumin seeds+ 4-5 dried red chilies + 4 tbsp freshly grated coconut.
Method: 
a. Pressure cook 1/2 cup of Tur Dal. b.In a big pan, add 2.5 cups of water and mix 4 tbsp of thick Tamarind pulp and bring it to a boil. b. Add turmeric powder and hing. c. Add the softer vegetables to the tamarind water and allow to cook till they are al dente. With a slotted spoon, take out the vegetables and keep them aside. d. Add the harder root vegetables to the tamarind water and cook them till they are al dente. Add the softer vegetables to the pot and mix well. Turn off the heat. e. Heat 2 tsp of oil in a pan and add all the ingredients for the masala and sautee till the dals are golden brown and the spices give out a good aroma. Add the grated coconut at the end and turn off the heat. Retain 2 tsp of this mixture for garnish. f. Grind the rest of the toasted spices with a little water to a fine paste and add to the cooked vegetables. g. Whisk the cooked tur dal well and add to the vegetables. Mix everything together and cook till everything blends together. h. Heat up 1 tsp of oil and add 1 tbsp Mustard seeds to it  and allow to splutter. Add the mustard seeds to the whole toasted spices. Garnish the Kootu with this and fresh curry leaves. Serve alongside piping hot Kalee or Pour over hot rice/quinoa and enjoy!